WATCH: Arkansas pulls off crazy one-handed fake field goal touchdown catch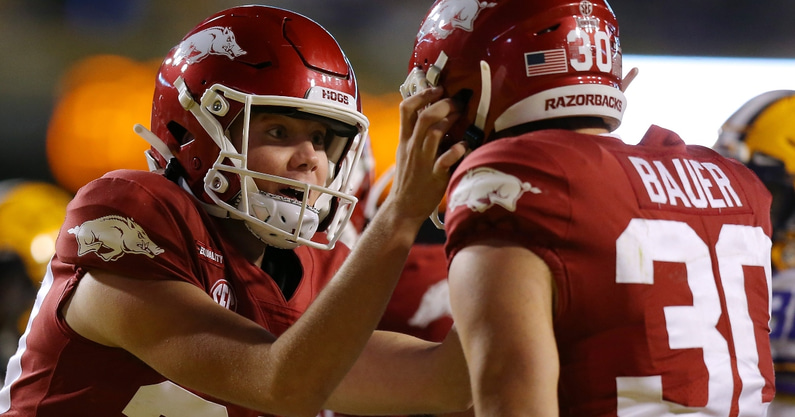 The Razorbacks have just moved within a touchdown of the Alabama Crimson Tide after this trick play. After the Alabama defense stalled Arkansas's drive on the 32-yard line, the Razorbacks sent out their field goal unit. But instead of coming away with three points, Arkansas scored six.
On fourth-and-nine, the Razorbacks lined up for what looked like your typical field goal attempt, but when the ball was snapped, holder Reid Bauer took the snap and charged towards the line. The Alabama defense scrambled to stop Bauers progress, but as he made it to the line he jumped up and flicked it to tight end Blake Kern. Kern made a one-handed catch with the ball thrown slightly behind him and turned upfield for the touchdown. Arkansas now trails Alabama by six points, 34-28 midway through the fourth quarter.
Nick Saban lays into Alabama defense at the half
Alabama held Arkansas to 14 points at halftime on Saturday. But the Crimson Tide allowed 244 yards — which is why Nick Saban wasn't too happy in his halftime interview.
The Crimson Tide, who are playing for a spot in the SEC Championship game, lead the Razorbacks 24-14 at halftime. Saban told CBS Sports' Jamie Erdahl about what stood out to him, and he didn't hold back about his defense.
"We're just not covering our man," Saban said. "We played man-to-man on a couple of them and guys got picked and one guy didn't take the guy on a wheel route. So we're just making some mental errors and everybody's not doing their job, so we've got to clean that up."
Arkansas quarterback is having a solid day so far, completing 12 of 17 for 163 yards and a touchdown through one half of play in Tuscaloosa. The Razorbacks have also combined for 81 rushing yards, led by Trelon Smith's 35 yards.
Saban said this week he's not taking Arkansas lightly, and the fans shouldn't, either. Alabama entered the day as a 21-point favorite.