Report: Arkansas QB KJ Jefferson out for Saturday's game against LSU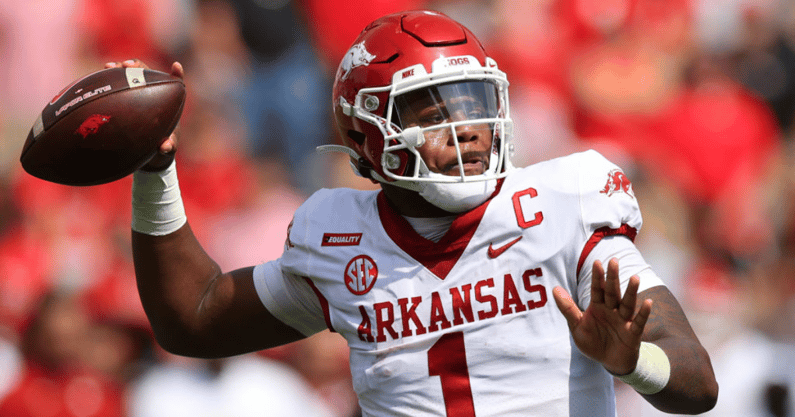 Arkansas quarterback KJ Jefferson is out for Saturday's game against LSU, according to Brett McMurphy of The Action Network.
"Arkansas QB K.J. Jefferson is out today vs. LSU, sources told @ActionNetworkHQ," tweeted McMurphy.
CLICK HERE to subscribe for FREE to the On3 YouTube channel
There were questions regarding Jefferson's availability all week long, and it looks like it'll be Malik Hornsby under center against the Tigers. Last weekend, Jefferson attempted to play injured, and it resulted in a loss for the Razorbacks against Liberty.
Nevertheless, Hornsby will have his work cut out for him, as he's facing one of the top teams in the country during a snowstorm overtaking Fayetteville. If he can find a victory on Saturday, it'll be huge for the Razorbacks, and a gigantic deathblow to one of the SEC's best teams in LSU.
Arkansas will miss KJ Jefferson on Saturday, but Sam Pittman has been confident Malik Hornsby can get them a victory. Time will tell if he's right, but it should be a fun one on Saturday afternoon.
Sam Pittman reaffirms confidence in Arkansas QB Malik Hornsby
As Arkansas prepares to face LSU this week, it looks like Sam Pittman will be starting Malik Hornsby at quarterback in light of the shoulder injury to KJ Jefferson. Earlier this week, Pittman asserted his confidence in Hornsby to step in.
"Certainly Malik practiced well last week and has practiced well this week," the coach said. "We believe in him. I think there's a misconception that we don't believe in Malik, but we believe in KJ and I think he's proven that we should. But we certainly have belief in Malik that we can go in there and win the game with him. So we've got to take all those factors in and see where we go from there after today, tomorrow."
A former four-star recruit and the No. 13 quarterback in the 2020 class according to On3 Consensus, Hornsby started once already this season when Jefferson was out against Mississippi State. He finished that game 8-of-17 passing for 234 yards, one touchdown and two interceptions while adding 114 yards rushing. 
Sam Pittman noted that Malik Hornsby has similar strengths to Jefferson, but also expects the offense to approach things slightly different should Hornsby get the start.
"We're very confident with him running all of it," he said. "I do think he has a lot of similar skillsets as KJ and then some different. So certainly if he's the quarterback Saturday, we would have a few different plays for his skillset than possibly what KJ's is. We're prepared for a couple of similar, yet different game plans if that makes sense."
Arkansas is set to kick off against LSU at 11 a.m. CT on Saturday in Fayetteville, and Horsby will play a pivotal role following the news that Jefferson is out.