Treylon Burks trying to 'mimic' game after Deebo Samuel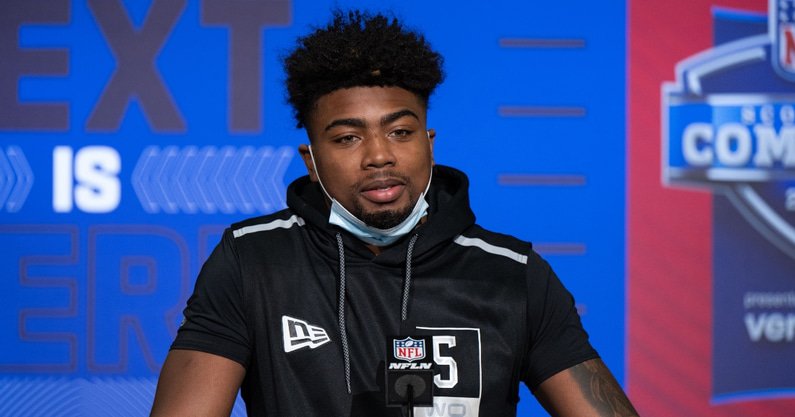 Wide receiver is one of the deepest positions in the 2022 NFL draft, with one of the best coming out of the SEC. Arkansas Razorbacks wide receiver Treylon Burks is going to be a popular name at the top of the board, with plenty of teams wanting to draft the versatile player.
Talking to the media on Wednesday at the NFL combine, Burks said he is trying to "mimic" his game after San Francisco 49ers do it all player, Deebo Samuel. Late in the season, Samuel was deployed everywhere in the Kyle Shanahan offense, helping the 49ers make a deep run in the playoffs.
Burks went on to discuss what he thinks his strengths are heading into the draft. He mentioned his versatility and the ability to lineup anywhere on the offense in a similar fashion to Samuel.
"Just my physicality," Burks said. "Just the way I am able to be used at multiple positions. I can play outside receiver, inside receiver, running back — doesn't matter. That just sets me apart from everybody else."
Breaking out for Arkansas under offensive coordinator Kendal Briles, Burks had 66 receptions for 1104 yards and 11 touchdowns on the season. Of his 12 appearances, half of them ended with the wide receiver having at least 100 yards receiving. Burks did not put up a ton of numbers in the run game, only having 112 yards and a touchdown on 14 carries.
Burks earned first-team All-SEC status as well for his performances.
Todd McShay explains why Treylon Burks is a dangerous wide receiver
Burks has the attention of ESPN NFL Draft expert Todd McShay. Burks is a candidate to be the first receiver off the board in April's draft, and McShay has him going 19th overall in his mock draft 2.0 to the Philadelphia Eagles. McShay went on to explain what makes the wide receiver such a dangerous weapon.
"I went with Treylon Burks from Arkansas," McShay started. "This guy is 6-foot-3, he's got a sturdy build, and he's a slot receiver primarily. That's where he does his best work. Mismatch over the middle, he's great after the catch. That's the thing that's unique about him. Usually the big guys, it's catches down the field. But he's really good, quick transition up the field and he's elusive in the open field for such a bigger guy."
McShay ultimately thinks Burks ends up in Philadelphia, linking up with quarterback Jalen Hurts and being a nice compliment to wide receiver DeVonta Smith. The Eagles need the offensive talent to open up the passing game and drafting Burks in the first round would be a good start.