John Daly opens up on Arkansas golf, his son, and Hooters NIL deal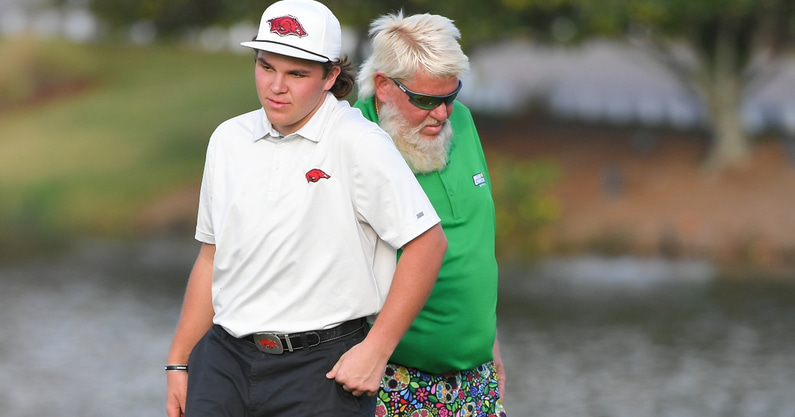 Golf icon John Daly has publicly shared his support for the Arkansas Razorbacks over the years. That's where he played college golf before turning pro, and that's where his son, John Daly II, now plays and attends. The two have a tight bond, and Daly opened up on that on Sunday morning at the PGA Championship at Southern Hills.
Daly joined Joe Buck and Michael Collins on the broadcast at Southern Hills, where he talked about his son, the future of Arkansas, and later his son's NIL deal with Hooters.
Daly II is patiently waiting his turn on the Arkansas golf team, and his father believes that the wait will be worth it as he works towards earning his degree.
"I love it," Daly said. "The Razorback golf team is so strong right now. They're going to NCAAs, finished I think fourth in the regionals to go to the NCAAs. Little John is going to redshirt next year as a sophomore. I'm so proud of him because he wants to get his degree. He loves the University of Arkansas, he loves the Hogs, and he's not a hurry to play. Once those seven seniors are gone next year, Brad, our coach, is pretty much rebuilding the team and he's going to be a big part of it with three years left.
"And he's good with it because he wants to get his degree, it's an extra year he can get that degree. I'm just proud of him for the way he works at golf and the way he works at school. He's just a great kid. I thank the lord every day I got custody of him, because I don't know what would happen if I didn't."
Daly on his son's NIL deal with Hooters
In April, Daly II partnered with Hooters as an NIL ambassador. Daly has been associated with Hooters for much of the past two decades, and now he and his son can further strengthen their relationship with the chain through this NIL deal. Daly and Daly II are included on the NIL deal, and it is a multi-year agreement.
On Sunday, Daly expressed his excitement for the deal with Hooters, saying that it is a brand that both he and his son have come to love throughout the years.
"We eat at Hooters, we love it," said Daly. "It's the best chicken wings in the world and the atmosphere is great. I've been a part of the Hooters family since 2001 basically. I just love everything about Hooters. Little John, he loves Hooters and I think it's just awesome. It's great to be sponsored by someone you actually love."