KJ Jefferson explains the value of having Malik Hornsby's versatility for Arkansas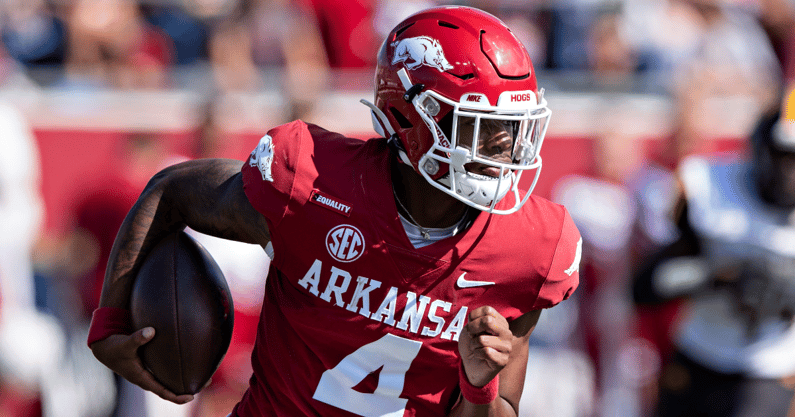 Malik Hornsby is going to see the field one way or another this upcoming season at Arkansas. Although KJ Jefferson already has the starting quarterback job locked up, the Razorbacks still plan to use Hornsby as both a quarterback and receiver.
His receiving ability was on display at a scrimmage Saturday, after which Arkansas coach Sam Pittman revealed that Hornsby caught a couple of passes. That prompted reporters to ask Jefferson how Hornsby could fit in with the offense this upcoming season.
"Just the athleticism that he has and he brings to the table," Jefferson said. "When two quarterbacks are on the field, you don't know what's going on. You don't know who's gonna have the ball. Just being able to create chaos for the defensive side of the ball and having a guy like Malik with his athleticism and being able to hand him the ball, he stretches the defense. Or you don't know if he's gonna throw the ball deep. So being able to have two quarterbacks on the field is an advantage. We like it."
Malik Hornsby joined Arkansas in 2020 as the No. 12 quarterback in the class according to On3 Consensus, a complete and equally weighted industry-generated average. After redshirting as a true freshman, he played in seven games this past season to finish 5-of-12 passing for 46 yards. He also added 136 yards rushing and a touchdown on 24 attempts.
That speed stood out to Pittman and the offensive staff, who are trying to devise a way to get Hornsby more involved in 2022. The most likely spot for that to happen seems to be at receiver, where the Razorbacks lost three of their top four players from a year ago.
"I've told him that we need him on the field," Pittman said. "He has to earn the right to get on the field, but we need him on the field. We've got a plan for it. I hope it works and I feel like it will. We think he's an excellent football player, so we are obviously going to give him the opportunity to win the job, but at the same time give him the opportunity to win the wide receivers spot, too."
Hornsby has about three more weeks to work on getting acclimated to his new role, as the Razorbacks open the season on Sept. 3 against the Cincinnati Bearcats.