Sam Pittman anticipates having KJ Jefferson available against Ole Miss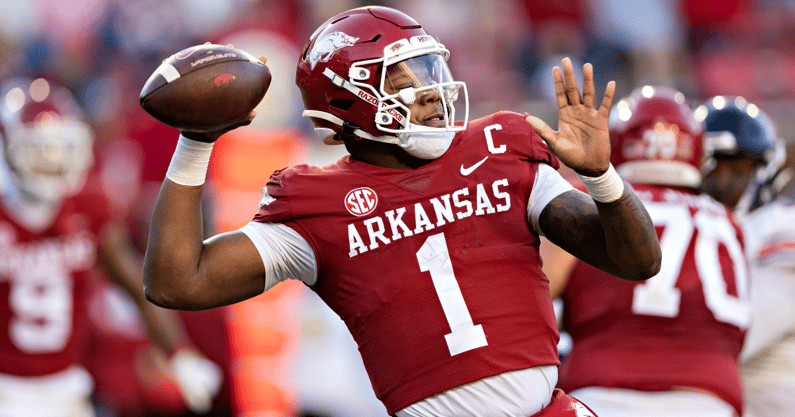 Arkansas coach Sam Pittman had some positive news on quarterback KJ Jefferson in his Monday press conference. Although Jefferson missed last week's game against LSU due to a shoulder injury, Pittman expects him to be available when the Razorbacks take on Ole Miss this Saturday.
However, he added the caveat that that could change as the week progresses.
"We anticipate him practicing today," Pittman said ahead of Monday's practice. "We anticipate him playing on Saturday. Those things certainly change. They have over the last two weeks, but I know he feels better than he has since the Auburn game. We'll have to see how he is at practice to be perfectly honest with you, but I think he feels fine. We know he feels better than he has in the last two weeks."
Malik Hornsby received the start last week with Jefferson out, but was later replaced by Cade Fortin after a rough start in which he went 4-of-9 passing for 24 yards and also fumbled. Fortin finished out the game 8-of-13 passing for 92 yards and a touchdown.
In a follow up question, Pittman seemed to cast more doubt on whether Jefferson would actually be available to play Saturday. With that being the case, Fortin and Hornsby are in an "open competition" this week for who would receive the start should Jefferson be ruled out.
"It would be an open competition I think," Pittman said. "The problem that we have a little bit is the unknowing of KJ and game planning. It was a little easier if Malik's the guy because there are some similar talents. Dual-threat, even though Cade made some nice runs the other day.
"I think our team and our staff, we just wanna know if he's gonna be available or not. I think our team needs him, or we need to go the entire week and say he's not going to. I think a lot of that will be said today. Cade and Malik will battle for who would play in that spot if KJ is not able to."
So far this season, Jefferson has thrown for 1,981 yards and 17 touchdowns to just three interceptions while adding 425 yards rushing and six more scores on the ground. The Razorbacks and Rebels are set to kick off at at 6:30 p.m. CT on Saturday in Fayetteville.