Sam Pittman on the progression of Arkansas quarterback KJ Jefferson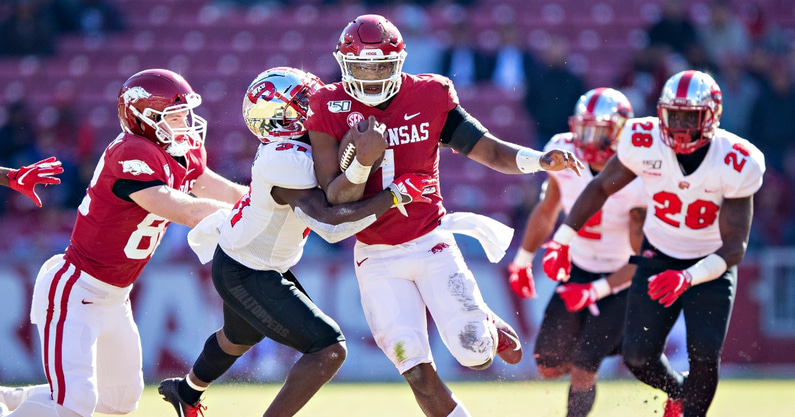 It took a couple of years, but KJ Jefferson has cemented his name as QB1 in Fayetteville for the remainder of his Arkansas tenure. Razorback head coach Sam Pittman is singing his quarterback's praises.
"I think the best thing that he's done, obviously he's throwing the ball better than he ever has, but it's the way the kids look at him on the team," Pittman said. "I think you can tell a leader by the way somebody looks at you a lot."
With those inside the Arkansas program taking notice of the leap Jefferson took this past season, his leadership qualities are being showcased on and off the field.
"The kids look to him because they wouldn't if he wasn't tough, they wouldn't if he made a lot of excuses, they wouldn't if he's late to practice, but he's none of those things," Pittman said. "He's tough. He doesn't make excuses. He takes ownership of what he does, good and bad. He can throw the football. His delivery has really improved this year."
Jefferson finished the 2021 season completing 198-294 passes for 2,676 yards, 21 touchdowns and just four interceptions. Compare that to his combined 492 career passing yards and three touchdowns entering the season as a career backup, you can see how the success Arkansas had this season directly translates to Jefferson's playmaking ability.
On top of his passing prowess, Jefferson took 146 rushes for 664 yards (4.5 yards per carry) and six touchdowns. He finished 2021 with a 76.7 QBR, which ranked 19th nationally at the end of the season.
"We always knew he could run," Pittman said. "I'll be honest with you, I didn't know he can run as well as he can until the Rice game when he ran an option and did his little deal, went down the sideline."
Arkansas will look to continue their success in a tough SEC West division coming off an Outback Bowl victory over Penn State 24-10 on New Year's Day and to improve on a 9-4 record that saw the Razorbacks rank as high as No. 8 in the AP Top 25 this past season.
None of the success would be possible without Jefferson at the helm, leading the Razorback charge.
"He's just really grown," Pittman said. "He's a better person than he was a football player. Really he's a great kid. That's usually where your leadership comes from."