Sam Pittman reveals Arkansas quarterback tore ACL in practice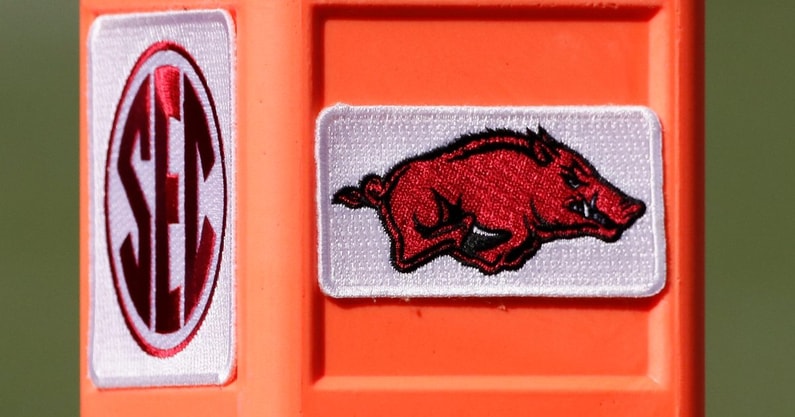 The Arkansas Razorbacks have announced some bad news coming out of practice on Monday. As Arkansas prepares to take on the Penn State Nittany Lions in the Outback Bowl on New Year's Day, they will do so without one of their quarterbacks.
According to Thomas Murphy, a local reporter who follows the Razorbacks, they will be without quarterback Kade Renfro for quite some time.
Murphy posted on Twitter a quote from Razorbacks head coach Sam Pittman in regards to the quarterback's injury:
"Sam Pittman: QB Kade Renfro suffered an ACL injury in Friday's scrimmage on a non-contact play as he was planting to cut."
Pittman revealed later in his press conference that his young quarterback indeed suffered a torn ACL. He did not reveal a timeline for Renfro's surgery and recovery process, but he did express his sorrow for the situation.

"I hated it for him," Pittman said. "Just planted and (it) gave way on him, so I'm very sad for him, the whole team is. It's a part of the game you wish we could get rid of, but it certainly happened."
Renfro is one of three quarterbacks behind starter KJ Jefferson. Heading into the early signing period, Pittman did not target quarterbacks believing that the depth behind his starter was talented enough. But with the injury to one of his young quarterbacks he might have to rethink his decision.
Arkansas defensive lineman, Tre Williams addresses arrest
"My time here has been amazing ever since I have arrived last summer," reads Williams' farewell message. "Although it was for a short time y'all welcomed me with open arms and allowed me to experience the best collegiate season I could have asked for.
"With that being said, I have decided it is best for me to pursue my NFL dreams and move on to the next level.
"With regards to what happened early this morning I want to apologize for what occurred and not representing the state and logo the way that it should be represented, which is with pride and honor. I know that nothing I say can change what has happened but as a man I have accepted the consequences and will do better to prove that I am not that type of person.
"I am sincerely grateful for the relationships that I have made and the connections that I have built here at the University of Arkansas. I will always consider this place a second home and wish nothing but the best for this team and for the Razorback nation.
"Sincerely, 55 out."