Sam Pittman says Arkansas has 'taken a step' after dominant victory against Texas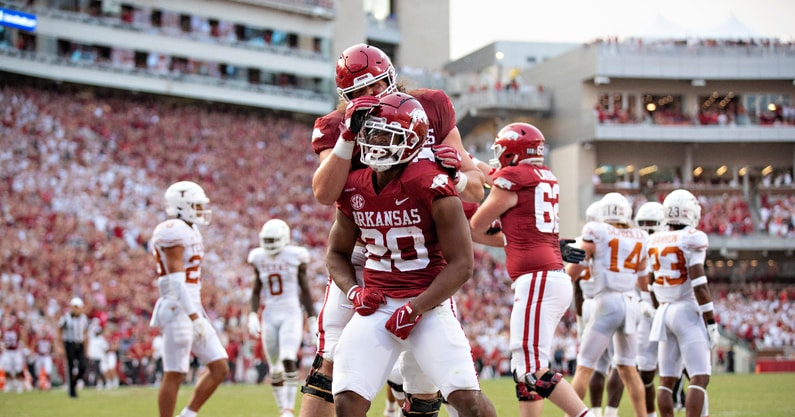 The jukebox was on, the rushing attack was potent and the No. 15 Texas Longhorns had no answer for Arkansas on Saturday, as Razorbacks' head coach Sam Pittman handed the Longhorns a road loss in Texas' first game against an SEC opponent since accepting a bid to join the conference.
Arkansas ran for 333 yards, with five different rushers tallying over 40 yards on the ground, Pittman's defense held Texas to 256 yards of total offense and the Razorbacks held on to beat their former SEC rivals 40-21. In front of 74,531 fans, a top-ten crowd in Arkansas history, Pittman and his team found themselves swarmed by fans after the game, as the field was stormed in jubilant fashion.
"The greatest thing about our team, and it happened last year, is when we played a pretty good first half against Georgia — and I've said it before — then went to Mississippi State and won, went to Auburn and had the call at the end, came back home and beat Ole Miss," Pittman said after beating Texas. "Our team, our coaches have done a really good job of saying 'OK, well, you can take the pats on the back, but when we get in here on Monday we've got to go play Georgia Southern."
Pittman, formerly the offensive line coach at the University of Georgia, was given his first head coaching role when he landed at Arkansas in 2020. Now, just two games into his second season at the helm, Pittman believes the Razorbacks' program has taken a big step in the right direction.
"I think we took a step already," Pittman said Saturday, when asked what the next step is for his Arkansas Razorbacks. "[Texas] was the No. 15 team in the country and they beat the 23rd team in the country soundly last week. I think we have taken a step. We have to keep climbing, but I've got to ask you the question of what do we need to do to be a good SEC team. Well, we've played some pretty good teams and beat some pretty good teams. So, we're heading in that direction, we've got a long way to go, but tonight sure was nice."
Pittman, in his first season at the helm of the Arkansas program last season, went 3-7 in an all-SEC schedule, claiming wins over Mississippi State, Ole Miss and Tennessee. This season, the Razorbacks are 2-0 with wins over Texas and Rice, and on Sunday they received a No. 24 ranking in the latest edition of the coaches' poll, as well as a No. 20 ranking in the AP poll.