Bruce Pearl gives honest answer on intensity between him, Fran McCaffery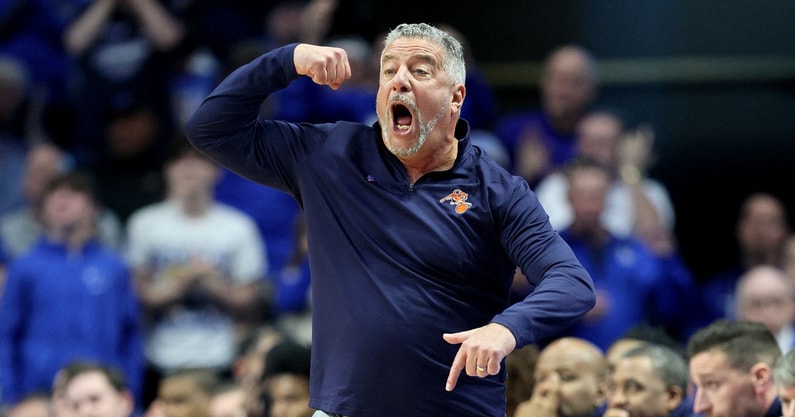 Auburn's first-round matchup with Iowa is one of the evenly matched NCAA Tournament games in the first round. The No. 8 and No. 9 seeds in the Midwest Region both have talent squads and head coaches that wear their hearts on their sleeves. CBS wrote that head coaches Bruce Pearl and Fran McCaffery behave like children and not to be surprised if technical fouls are awarded to the two, which Pearl responded too ahead of their matchup.
"I can only speak for myself as far as acting like a child, you know. But, you know, I've got a couple grandkids. And I love their energy, and I love their passion. And every now and then they throw a fit. And so, you still love them," Pearl said.
Whether it's child-like or not, there's no question that both coaches will being bringing the intensity in this one. Auburn enters this game 20-12 and Iowa 19-13, as both teams have gone 2-3 in their last five games following strong starts to the regular season.
"I think it's one of the best matchups because of the quality of the teams and how competitive the game, you know, could be. We're going to have to play well for it to be competitive, I can tell you that," Pearl said. "And you know, Fran wears it on his sleeve also. But we respect the game. I'll take the under on the technical fouls."
This matchup is already an intriguing one, but there's no question that the coaches make it even more interesting. Auburn and Iowa tip off at 6:50 p.m. ET in a matchup airing on TNT.
Fran McCaffery downplays Auburn's proximity to home
Iowa and Auburn's first round matchup in the NCAA Tournament will be played in Legacy Arena at BJCC in Birmingham, Alabama around 2 hours away from Auburn's campus. Hawkeyes head coach Fran McCaffery was asked about the Tiger's proximity to their neutral site ahead of the game.
"Yeah. I don't think anybody is going to think much about that. Obviously, from a fan's perspective, fans want your team closer," McCaffery said.
It's clear that the Tiger's distance from their tournament venue is the least of McCaffery's worries, but maybe it should be. The Hawkeyes head into the tournament with a 19-13 record, but on the road and in neutral site games this season they've gone 5-10. Legacy Arena may be louder than usual when the Hawkeyes and Tigers tip off, but it's nothing Iowa isn't used to according to McCaffery.
"So for them, I'm sure they are excited about it," McCaffery said. "But as far as how we look at this game and how we prepare will be the same. We see a lot of hostile environments in our league. Okay. Thanks, guys."
We'll see how hostile it gets for the Hawkeyes soon, as they