Auburn reveals contract details for Eric Kiesau, Jeff Schmedding, Zac Ethridge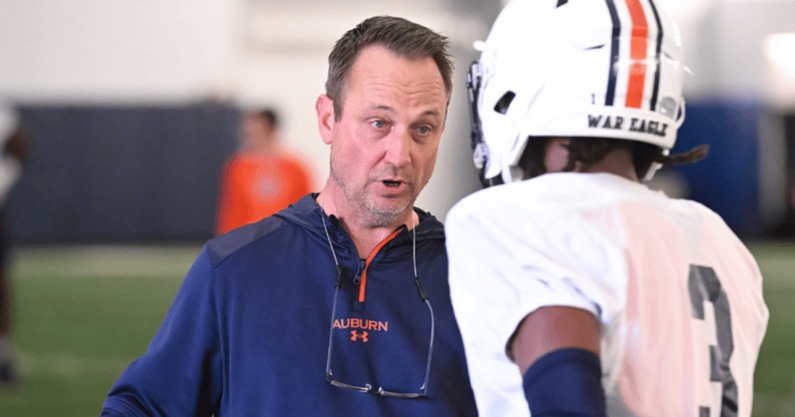 The Auburn football program released contract details for three of Bryan Harsin's assistants on Tuesday after a Freedom of Information Act request from AL.com.
The Tigers announced promotions for several assistant coaches this spring and details on Eric Kiesau, Jeff Schmedding and Zac Ethridge's new contracts are finally out.
New Auburn contract details
Eric Kiesau, promoted from wide receivers coach to offensive coordinator/QB coach, received a two-year deal, which went into effect in February. He will earn $800,000 annually. The deal includes a base salary of $250,000 per year, in addition to $275,000 each in endorsement rights and personal appearances payments. 
Kiesau was an analyst earning $120,000 just a year ago before the firing of then-wideouts coach Cornelius Williams. Prior to joining the Auburn football program, Kiesau spent four seasons at Boise State.
Jeff Schmedding is also on a new two-year deal, which is worth $1 million annually. He replaced Derek Mason as Auburn's defensive coordinator after serving as inside linebackers coach. Mason left Auburn for Oklahoma State but left the group strong. The Tigers played well defensively, ranking 27th in the FBS in scoring defense, also coming in at 29th against the run.
Schmedding's contract includes $250,000 in annual base salary, as well as $375,000 each in endorsements and personal appearances payments. He doubled his salary in the new deal.
Defensive backs coach and new associate head coach Zac Ethridge signed a new two-year contract worth $600,000 for the 2022 season. His salary goes up to $650,000 in 2024. The former Houston assistant made $315,000 when he first joined the staff as corners coach and recruiting coordinator.
"One of the biggest things our players and program needs going from year one to year two with us is consistency – consistency with the system, the coaches and our plan for success," Harsin said at the time of the promotions.
Details for Roc Bellantoni, new outside linebackers coach, are not yet out.