Bryan Harsin details plan against Jameson Williams in return game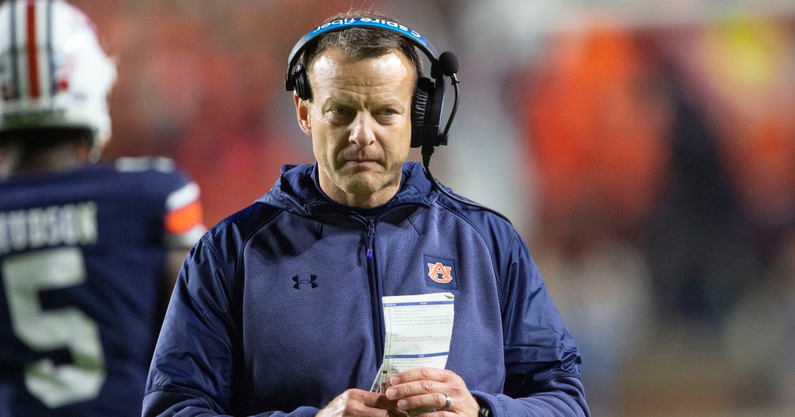 In the state of Alabama, Thanksgiving might be the second most important holiday of the week. The Iron Bowl is set to take place on Saturday, with No. 3 Alabama traveling east to play an unraked Auburn team at Jordan-Hare Stadium.
One of the more undercovered stories of the week is Auburn being without kicker Anders Carlson. Not only will he not be able to be the Tigers' placekicker but they will be using a new kickoff specialist.
Alabama has one of the better kick returners in the country in Jameson Williams. While he has yet to score a touchdown, the wide receiver has nine returns for 337 yards, averaging 37.4 yards per return.
Auburn head coach Bryan Harsin was asked how the Tigers were going to adjust without Carlson. Not only with getting the ball into the end zone but also doing a good job containing Williams if he gets the opportunity.
"Hopefully on the kickoffs, we can get those a little deeper," Harsin said. "If not, guys are going to return it, we got to run down. I thought Jarquez Hunter was really effective on kickoff. We had to move some guys around. There's still competition happening on this team each and every week. Some guys that were in those positions — we had some other guys who were executing better in practice so those guys got a chance to play and they were effective.
"I thought coach (Bert) Watts did a good job of identifying that. We're not going to continue to do the same thing and just assume it's all going to work out. We're going to have to make changes. That continues to be something on this football team that we will have to keep doing."
Bryan Harsin discusses first Iron Bowl
When Bryan Harsin accepted the Auburn job in December, he admitted one of the first questions he was asked was about the Iron Bowl. From then, he understood how important of a game it was for the Tiger fans.
During his Monday press conference, the head coach talked about the game and what he has learned about it during his first season.
"This game has been going on for a long time. This game is one that everybody in the country knows," Harsin said. "To me, that's the best part of this game. You have that excitement and passion surrounding it. So, you want to go out there and have yourself prepared and ready to play. You want to go out and play your best game. You want to have an opportunity to put yourself in a position to go have a chance to win. And you do that by having yourself prepared."