Auburn's Johni Broome reverses course on 2022 NBA Draft decision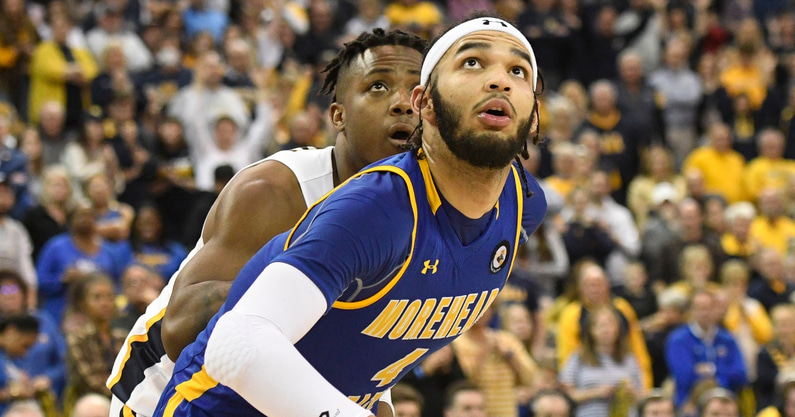 The 2022 NBA Draft is a few months away and Auburn Tigers' basketball fans got some great news on Thursday evening. They recently landed former Morehead State star Johni Broome via the transfer portal and while he was considering staying in the 2022 NBA Draft, he changed his mind, he announced via his Twitter page on Thursday evening.
"After discussing with my family and reflecting over the past month, I have decided to withdraw from the draft and turn my focus to helping Auburn win a national title. I have gained invaluable experience and insight throughout this process, and now look forward to getting to work with my teammates and Auburn staff. I'd like to thank God, my family friends, teammates, coaches, and fans for your support along my journey. I'm all in and ready to get to work. WDE! –Johni Broome #4
Broome declared for the 2022 NBA Draft a little bit more than a month ago on April 1st, but he did not sign with an agent. He was one of the nation's most coveted prospects in the transfer portal and will join 6-foot-10 center Yohan Traore to form one of the nation's best frontcourts.
Traore happens to be the third-highest rated prospect in Auburn basketball history. According to the On3 Rankings for the 2022 class, the 6-foot-10 power forward was rated as the No. 12 overall prospect in America and was also rated as a five-star prospect. When Broome picked the Tigers, he picked them over the Florida Gators.
His return ensures the Tigers will once again have a loaded frontcourt despite losing the elite talents of Jabari Smith and Walker Kessler to the 2022 NBA Draft. Broome was truly one of the nation's best shot blockers last season and he's got the impressive stats to prove it.
He finished third nationally in blocks (131) and blocks per game (3.9), while his block rate of 13.9 percent was the fourth-best mark in the country. The former Morehead State standout also earned OVC Defensive Player of the Year honors. Not only was Broome an elite shot blocker, he also happened to be one of the nation's best rebounders, bringing in 10.5 rebounds per outing. As a scorer, he poured in 16.8 points per game for the Eagles. It's easy to see why he was such a highly coveted transfer portal prospect and it will be exciting to watch him team up with Traore and others at Auburn.
The current deadline to withdraw from the 2022 NBA Draft for early entrants who wish to retain their NCAA eligibility is June 1.