Bruce Pearl discusses impact of Joe B. Hall on his coaching career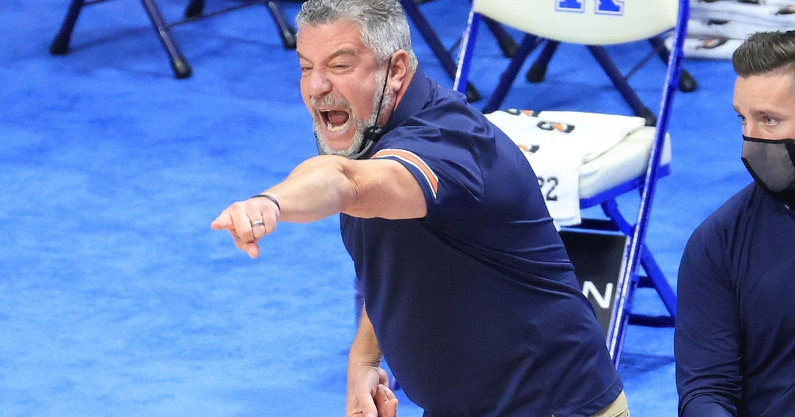 The college basketball world is still reeling from the death of legendary Kentucky basketball coach Joe B. Hall and Auburn head coach Bruce Pearl took some time to talk about how coach Hall impacted his career.
"I'm gonna tell you right now, I use this slide in a lot of my clinics, and a lot of my actual speaking engagements, and it came from Joe B. Hall," Pearl said. "Joe B. Hall said, it's not my job—speaking of himself—to make every right decision, but it is my players job to make my decisions work."
The great thing about that advice, Pearl said, is that it can be applied to the basketball court and more importantly, in real life as well. He used his speeches to business managers as an example:
"But whether it's the right decision, the best decision, or the fourth best decision, your company, your team, your employees, your players need to make that decision work and that's how I coach as well," Pearl would tell the managers.
Pearl said Hall gave him this advice when he won the Adolph Rupp National Coach of the Year award while he was still coaching at Tennessee. He said Hall took him aside, talked to him about his team's play, his coaching style and gave him that advice and it changed the way he coached forever.
That decision making that coach Hall implemented into Pearl's coaching philosophy seems to be working for the best. His Auburn team is currently ranked No. 2 in Monday's AP Top 25 and currently sit at 16-1 with a 13-game winning streak. The lone loss came against then-No. 22 UConn 115-109 in double overtime back in November.
In a way, Pearl sees his ability to build the Auburn program from the ground up in a similar light as how coach Hall kept the torch going immediately after Adolph Rupp retired—it was an "impossible task."
"[Coach Hall] did it with class, he did it his own way," Pearl said. " He did it Kentucky's way. He loved Kentucky and Kentucky loved him. He never quite got the credit that he deserved."
Hall led Kentucky to the 1978 national championship, a runner-up finish in 1975, a Final Four appearance in 1984, and the 1976 NIT Championship. He was named National Coach of the Year in 1978 and SEC Coach of the Year four times (1973, 1975, 1978, 1983). His record at Kentucky was 297–100, and 373–156 overall.