Bryan Harsin compliments Alabama team ahead of Iron Bowl matchup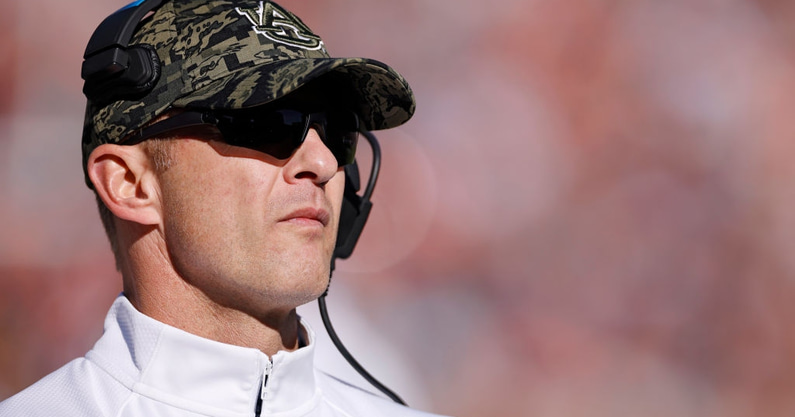 Auburn head coach Bryan Harsin had some rat poison for Alabama and Nick Saban ahead of the annual Iron Bowl. The first-year skipper leads the Bo Nix-less Tigers versus the No. 3 Crimson Tide on Saturday.
"When you look at Alabama, they're obviously a very good football team," Harsin said. "They've done that consistently year in and year out. Offensively, they're first in the league. Bryce Young, I got a chance to watch in high school, he was a very good player then and you can see his growth. I've been very impressed. (John) Metchie and (Jameson) Williams, both guys are having tremendous years. They're also physical in the run game.
"The thing that stands out is the way that they play and the consistency that they play with. The defense makes plays on the ball and they're great tacklers."
As good as they are, one-loss Alabama has a history of playing certain SEC opponents close this year.
Bama's only loss of the season came in a 41-38 road contest against Texas A&M, a game decided by a game-winning field goal. Also, the Crimson Tide beat Florida by just two points early in the season, beat LSU just 20-14 and are coming off a 42-35 win over Arkansas.
The Crimson Tide have had trouble pulling away from SEC opponents, and a hostile atmosphere at Auburn's Jordan-Hare Stadium won't make things any easier.
The atmosphere in Auburn should be a good one, as the Tigers will host SEC Nation on campus prior to the highly-anticipated Iron Bowl.
Harsin discusses importance of Iron Bowl
Fittingly, one of the first questions Bryan Harsin ever took when he got the job at Auburn had to do with the Iron Bowl.
"I'll say this: the first question I was asked after I did my press conference on Christmas eve was about the Iron Bowl," Harsin said Monday. "Which I think, at that time, was about 340 days away.
"That made it very clear how important this is."
Fast forward to now, and the slumping Tigers have just two days before game day dawns on Saturday.
Alabama is facing Auburn not just in a developmental year for the program, but also after the Tigers suffered three-straight losses, each to an SEC school. First, Auburn lost to Texas A&M 20-3, then to Mississippi State 43-34 and most recently, the Tigers suffered a brutal 21-17 loss to South Carolina, which made the Gamecocks bowl eligible. Along the way, Auburn lost starting quarterback Bo Nix to a season-ending ankle injury against Mississippi State, so TJ Finley will again be called on to recover from a poor showing last week.
Auburn's record is just 6-5, and Alabama opened up as a 19-point favorite over its in-state foe.
"This game has been going on for a long time. This game is one that everybody in the country knows," Bryan Harsin said. "To me, that's the best part of this game. You have that excitement and passion surrounding it. So, you want to go out there and have yourself prepared and ready to play. You want to go out and play your best game. You want to have an opportunity to put yourself in a position to go have a chance to win. And you do that by having yourself prepared."