Bryan Harsin criticizes special teams play heading into Iron Bowl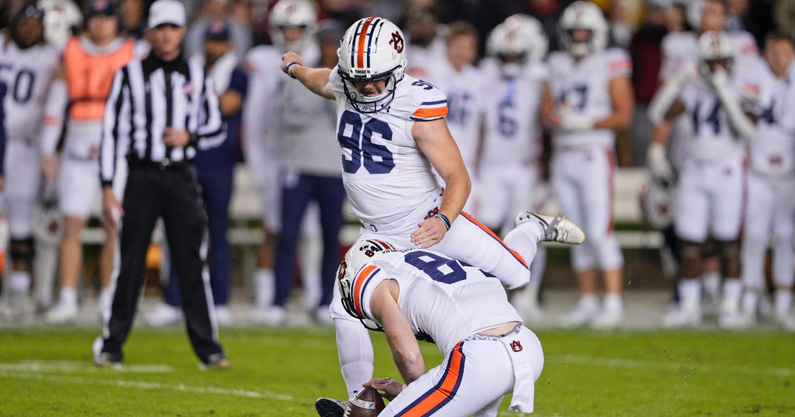 Auburn enters their final regular season game this weekend against Alabama as a heavy underdog, meaning everything and likely more will have to go right if the Tigers want to upset the No. 2 Crimson Tide. 
Included in that "everything" category is special teams, an element of the game that may have lost last weekend's contest against South Carolina for Auburn.
Auburn head coach Brian Harsin addressed special teams – both punt returning and kicking – during his media availability on Monday.
The head coach subtly made clear that little mistakes like the fumble against the Gamecocks should not happen come game day. Those details are emphasized in practice.
"The goal is to catch every single punt… Doesn't always happen, and if it doesn't, then protect your team from getting in a position [like] what happened to us in the last game," Harsin said. "[Then] we don't even give ourselves the opportunity to be in that position. It's unfortunate. We shouldn't have been, and that comes down to details, that comes down to things that were emphasized early in the week and don't get done in the game."
Harsin said he understands surprising events happen in games, and a team may not always be equipped to handle those, but the routine things happening every day on the field are the killer mistakes.
"The stuff that at least you practice, prepare for and emphasize, that needs to show up in the games," Harsin said.
Patton steps in for Carlson
When it comes to the kicking game, the Tigers are missing starter Anders Carlson for the remainder of the year. They are breaking in a new kicker, and there were definitely bumps in the road on Saturday.
"We just gotta be consistent," Harsin said. "We gotta find ways to put points on the board, and when we are in a position where we are inside the 15 yard line and we have a chance to make a field goal, we gotta find a way to make it."
Sophomore Ben Patton filled in for Carlson, and he went 1-for-2 on the day on field goals. He made a 37-yard kick, and he missed a 25-yard kick early in the fourth quarter. He made the two extra points he attempted.
"Ben knows that. We know that," Harsin added. "That's no surprise, we just gotta execute in those situations… I expect him to be better this week, have a better understanding now as he's played a little bit more this season."
The Iron Bowl kicks off at 2:30 p.m. CT on CBS.