Bryan Harsin explains lack of tight end production vs South Carolina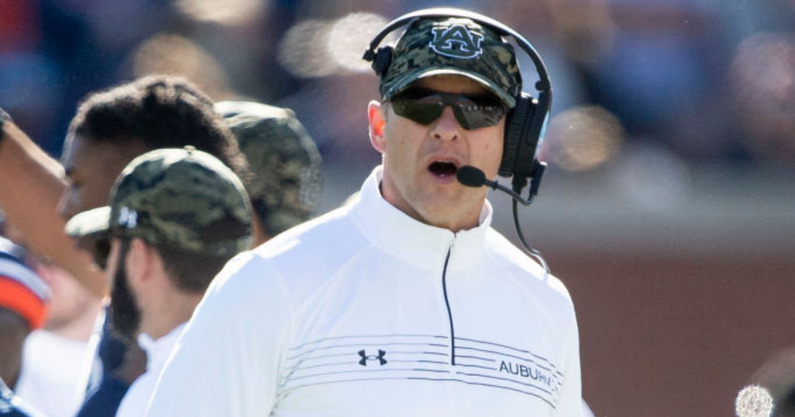 In his first season, Auburn head coach Bryan Harsin has experienced plenty ups and downs. After starting well, injuries and second-half collapses have derailed the season and left many questioning everything from in-game decisions to roster moves. After taking a look at the Auburn vs South Carolina postgame box score, the lack of tight end production for Auburn stood out.
Against South Carolina, tight ends John Samuel Shenker, Luke Deal and Tyler Fromm all finished with no catches. Harsin explained the lack of touches and his offensive philosophy after the loss.
"I think it was about South Carolina and probably just some of the situations we were in," Harsin said during his Monday press conference. "We were running the ball and doing some things from that standpoint. It wasn't intentional to not target the tight ends. Sometimes in the gameplan though, you go in there, you think one thing is gonna be available – and you're gonna like it – and then you start getting to a little bit groove."
He continued: "That was a little bit of us, a little bit of South Carolina, a little bit of flow of the game. Some opportunities we did have to get the ball to them we didn't. So there were opportunities for them, it just didn't happen in the game. Unfortunately, those guys didn't get a chance to be a part of it that way."
Bryan Harsin keeping tight ends involved
After addressing Saturday's tight end woes, Bryan Harsin reassured everyone that tight ends remain part of his weekly gameplan. However, he admits opportunity plays the biggest role in the involvement of any position group.
"I think the one thing for us, we have guys that are able to touch the ball, they've got mobile players that get their hands on the ball and do things," said Harsin. "When it's being distributed, we seem to be a lot more effective. But the tight ends are always part of the gameplan – they are in the run game, they are in the pass game – it's just we didn't have an opportunity for those guys this last game."
Auburn must now gameplan for No. 3 Alabama, whose defense has been uncharacteristically vulnerable throughout the season. Without head-to-head experience, both sides of the rivalry will get their first glimpse at the new-look coaching matchup. The game is set for 3:30 p.m. ET on CBS this Saturday afternoon.