Charles Barkley weighs in on Bryan Harsin, recent losses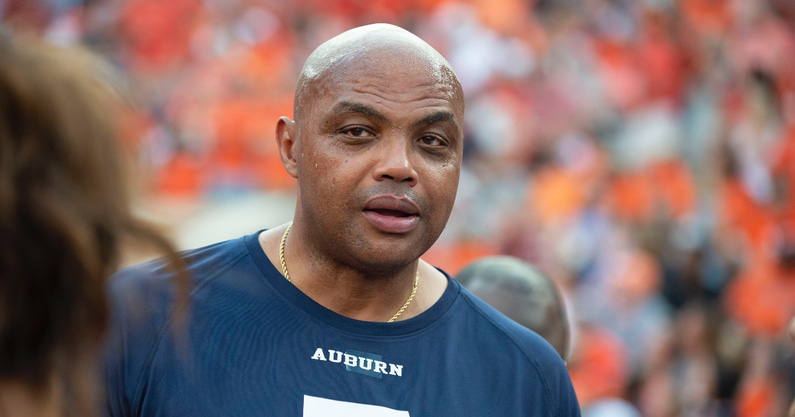 Famed Auburn alum Charles Barkley covers basketball in his day-to-day life, but he has not been shy about commenting on college football. Barkley appeared on the Paul Finebaum Show to discuss Bryan Harsin ahead of the Iron Bowl versus Alabama.
Auburn has lost their last three games despite being tied with their opponent (Texas A&M, South Carolina) at halftime or holding a commanding lead at the half (Mississippi State).
"The last couple games have been upsetting but you know what, I'm all in on Coach Harsin. I think you have to be patient with him," Barkley said. "The last time we talked, I told you I have faith in him. He's only been there 11 games.
"If you win one of the last two, the Iron Bowl would have a different feel. We're always comparing ourselves to Alabama, they have the best coach in the nation. I'm looking forward to the game. If we can ruin Alabama's season, we might as well be 12-0. If we can ruin their season, it would be awesome, plain and simple."
Bryan Harsin leads the 6-5 Tigers into battle versus Alabama at 3:30 p.m. on Saturday.
Bryan Harsin addresses his team's recent streak
In a press conference on Monday, Auburn head coach Bryan Harsin talked about his team's recent failures to finish strong in the second half.
"Yeah, I would say there has certainly been some moments where we've had that fall apart…drives here and there. And those things happen. You've gotta overcome it. That happens sometimes. At the end of games, you want to be clutch in those moments. Sometimes things happen earlier in the games, you've gotta overcome it," Harsin said.
"I think we've started somewhat fast in some games…I know we haven't done it consistently enough on either side. We have in a couple games O [offense] & D [defense] playing together," the Auburn head coach said.
"But it really comes down to that second half and finishing. It's four quarters of football. Everybody says that. It's truly understanding being able to go out there, make your adjustments at half time, and then execute those in the second half," he said.
"The bottom line is, we're not doing that. We're not finishing in games. That's stood out. If we could finish better, it doesn't guarantee us a win. I know we can finish better. We can continue to play better football in the second half of games," he said.
"You've gotta respond, in my opinion, to what happens to the other side of the ball at times. Somebody scores, you've got to find a way to score. You've got to get a turnover. We've gotta be able to get off the field on third down situations. We have to extend drives. Take advantage of field position, when our special teams gives it to us," he said.
Harsin kept it quite simple when discussing the main reason behind his team's struggles in the second half.
"A lot of it just has to do with being better at playing the game and then being able to do what we're coached to do," he said.
On3's Wade Peery contributed to this report.