Baylor fans viciously troll Texas following home win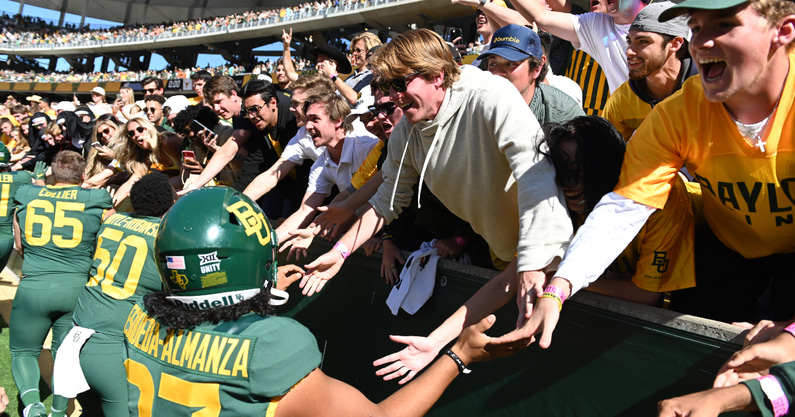 Texas on Saturday took to Waco with hopes of upsetting No. 16 Baylor, but instead, Steve Sarkisian and the Longhorns blew a double-digit lead for the third consecutive game, losing to Baylor 31-24.
As Texas Longhorns players took to the locker room after the game's final whistle, Baylor Bears fans let them hear it, trolling the Longhorns with "SEC" chants.
Sarkisian's Longhorns looked in position to pull off the upset for most of the game; as late as the third quarter, Texas held a 21-10 lead over Baylor. Instead, Texas joined 2018 Tulsa and 2018 West Virginia as the only teams to blow a lead in three straight games over the past five years. The Longhorns have been outscored by 45 points in the fourth quarter of the last three games.
Texas quarterback Casey Thompson completed 23 of his 38 passing attempts against Baylor, throwing for 280 passing yards, two touchdowns and one interception. Thompson shouldered the load of Texas' offense in the defeat, as the Longhorns didn't have a productive night on the ground. Bijan Robinson, Texas' star running back, managed just 16 carries for 43 yards and one touchdown, while Thompson added 31 rushing yards of his own on five carries.
For Baylor, the story was much different. Quarterback Gerry Bohanon completed 18 of 31 passing attempts for 222 yards, no touchdowns and two interceptions, and wide receiver Tyquan Thornton — who took the ball on a reverse — threw a six-yard touchdown for the Bears' only passing touchdown of the day. Baylor stuck to its ground-and-pound gameplan, running 42 times and led by Abram Smith, who had 20 carries for 113 rushing yards and a touchdown. After Smith, running back Trestan Ebner had 12 carries for 66 yards of his own, and Bohanon ran for a touchdown on 27 rushing yards, too.
With the loss to Baylor, Texas has not only blown three straight double-digit leads, but it has also amassed its first three-game losing streak since Charlie Strong did so in 2016.
Baylor, on the other hand, improved its overall record to 7-1, with its only loss coming to an AP top-25 Oklahoma State team. Baylor has just four games left on schedule against TCU, Oklahoma, Kansas State and Texas Tech — but if the Bears want to control their own fate and secure a bid to the Big 12 Championship game, they could very well have to upset No. 4 Oklahoma. Texas has been eliminated from Big 12 postseason play, but the Longhorns are likely to finish bowl-eligible with four games left against No. 22 Iowa State, Kansas, West Virginia and Kansas State.