4-Star LB Jamal Anderson to Clemson: "It happened earlier than I expected it to"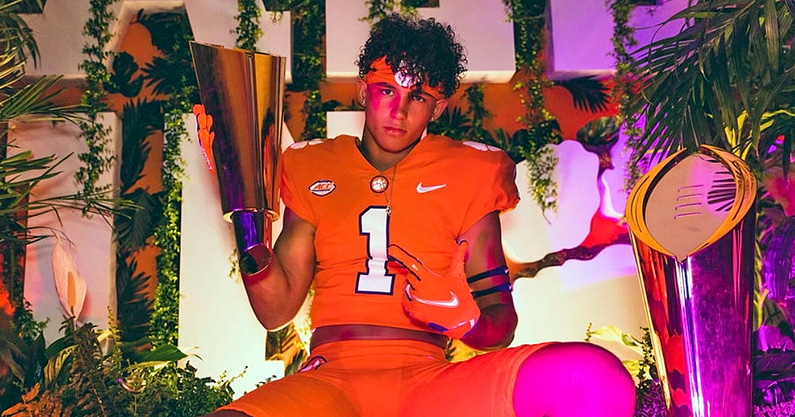 Jamal Anderson always had a plan to commit before his senior year, but he did not think he would have his mind made up the first week of June.
The No. 100 prospect in the On300 planned to take most, if not all, of his official visits before he made his decision. The four-star ended up taking only two, and he really knew after one, that Clemson was the school.
"I didn't think it would happen this soon," Anderson told On3 about his commitment. "Going into the visit to Clemson, they had a very small lead over Utah, but that visit boosted them up a lot.
"It gave me a chance to look at the overall program inside and out and it changed things for me. I talked to the players more, I saw everything, I listened to the coaches, and it was a great experience.
"When I left that visit, I knew my decision could come a little sooner than I thought it would."
Utah legacy gave the Utes one final look
Despite leaving Clemson on June 5 with commitment in his mind, the 6-foot-3, 195-pound linebacker followed through with his scheduled visit to Utah. His father played for the Utes and Kyle Whittingham's program was high on his list, but it just didn't match up with Clemson.
"I have a lot of respect for Utah and I love what the program is doing, but I knew coming out of that visit that it was time to commit. I already kind of knew my decision, but once I took that visit, I knew I was ready.
"My feeling at Clemson was different. My family's reaction when we were at Clemson showed me something too. I love Utah and it is a great school, but I was ready."
Clemson is different in Anderson's eyes
Anderson made the call to Dabo Swinney last week. He let the staff know that he was ready to be a part of the program and Anderson couldn't be happier.
"Clemson feels like home," Anderson said. "It was always my dream school and I grew up watching them, so this is a great feeling.
"It happened sooner than I expected it to, but Clemson is right for me. There is a lot of stress on us as a recruit, so having it over with feels great. I knew I was down to three schools and there was no reason for me to wait."
Michigan State was the third school competing with Clemson and Utah. The Tigers just separated themselves from the pack week after week, then after the official visit, it was a wrap.
"Clemson has it all. Their winning culture is there. Coach Swinney has sustained that since he became the head coach.
"Then there is the side outside of football. They are about God, life, and taking care of their players. The relationships they create with their players are on a different level and they provide everything I wanted in a school.
"My commitment definitely happened quicker than I thought it would, but so many things made Clemson the place for me. There was no reason to wait any longer."