The best NFL fit for Clemson defensive end Myles Murphy in 2023 NFL Draft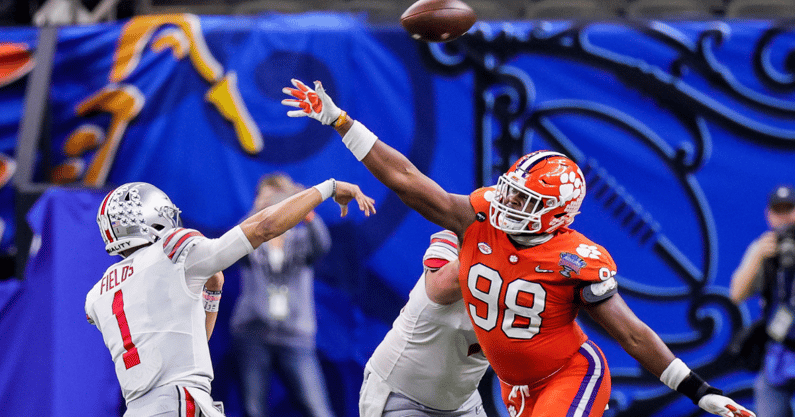 Former Five Star Plus+ recruit and current Clemson star defensive lineman Myles Murphy's junior season is approaching, and several NFL analysts have the Georgia native being selected in the first round of next year's draft.
His expected breakout junior campaign should cement himself as a sure-fire first-round draft choice, where Michael Renner believes the Minnesota Vikings would utilize his talents the most.
"You won't find many defensive ends as physically imposing as Murphy at as young of an age," Pro Football Focus' Michael Renner wrote. "The 6-foot-5, 275-pounder earned a 92.5 run-defense grade as a true freshman. Pairing him across from Danielle Hunter would give the Vikings two every-down ends for the foreseeable future."
The 2020 FWAA Freshman All-American built on a promising start to his college career with an even better sophomore campaign. He earned second-team All-ACC selection after recording 43 tackles, 14.0 tackles for a loss, 7.0 sacks and two forced fumbles. He carries a $553,000 NIL valuation.
In two seasons in Death Valley, Murphy has compiled 75 total tackles 11 sacks and four forced fumbles through 22 total games – a stat line that Renner believes Murphy will expand on in 2022.
Clemson – who sits atop the initial ACC power rankings – will be forced to rely largely on their defense. Led by Murphy and Bryan Bresee, head coach Dabo Swinney is excited to see what his defensive group can do led by their front seven.
"I told them 'y'all better make your reps count because there are not gonna be many.' They did a great job. There some guys a little overmatched, but they did a good job," Swinney said. "They were all begging for sacks and all that stuff. I'm gonna remind them when we miss a couple of those sacks this fall, you know, don't be beggin' next spring.
"But they're great. Really good group. I'm proud of all four of those guys. Very mature. They really like each other. There's a lot of competition there, but it's a healthy competition. Good leadership. Just proud of all of them. KJ [Henry] has been great — this has been his best spring. Myles [Murphy] has had his best spring."