Brad Brownell evaluates the ACC's success of making the NCAA Tournament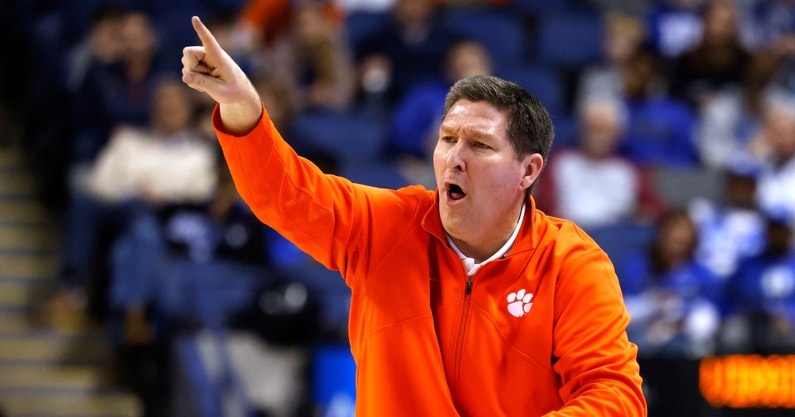 The Clemson Tigers were one of the biggest snubs of the 2023 NCAA Tournament field this year, and earlier this week when he held his press conference, Tigers' head coach Brad Brownell was understandably upset. Clemson was not selected for the tournament this year, despite compiling an impressive overall record of 23-10 and a 14-6 record in the ACC. To add more salt in Tigers' wounds, N.C. State got in this year's NCAA Tournament over them, despite the Tigers soundly defeating the Wolfpack three times this year. Two of those games were absolute thrashings by Clemson–they won by 25 points and 26 points, respectively. N.C. State also had a worse in-conference record (12-8 in the ACC). A few days ago, Brownell vented in his press conference and evaluated the number of ACC teams making the NCAA Tournament the past few years.
"The commissioner called me last night. I respect that. So, I spoke to the commissioner for twenty minutes and aired some of my frustrations," Brownell explained. "You know, it's crazy because I have been in this league for a long time. You know, I've seen a lot. And the last probably five or six years, I've become a much more vocal guy in the room in the ACC head coaching meetings. I think I've brought up some things that are significant, especially for guys in jobs like mine.
"Now, not many of them have been acted upon, but a couple of years of getting five teams in the tournament, and I think some of those thoughts might change. And, you know, it's just not good enough for the league, getting five teams in the tournament. It's just not."
He went on to point out last year's success wasn't a factor.
"And…it's obvious that last year's success by our league had no bearing on this year. Which, ok. I get it. Maybe it shouldn't, but three teams in the final eight, we only put five in. Notre Dame was 15-5 last year and got put in the play-in game. We're 14-6 and don't get in. The window to get in the NCAA Tournament, if you've gotta win 14, 15, 16 ACC games every year, that's pretty hard now," Brownell said.
CLICK HERE to WIN March Madness Prizes in On3's Bracket Challenge
Brownell brought up some excellent points about how difficult it's becoming to make the NCAA Tournament field. There has been chatter of expanding the field in recent years, so maybe that will help to alleviate some of the problems of teams like Clemson getting left out in the cold. Still, that is little consolation to Tiger fans, the players, and a program that was more than deserving of being in this year's tournament. The sting from their 2023 NCAA Tournament snub will last forever, and you certainly can't blame anyone associated with their program for being furious about it.