Brad Brownell frustrated with intensity from Clemson in first ACC loss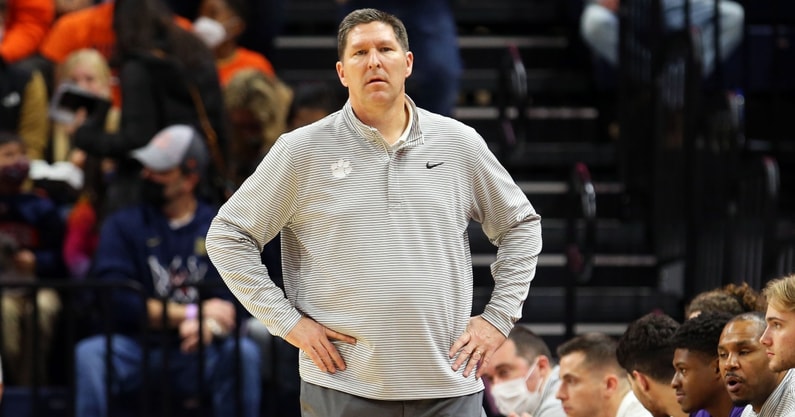 Clemson's seven-game winning streak and undefeated conference record was broken on Tuesday night as they were defeated by Wake Forest on the road 87-77. The Tigers lost the turnover battle and found themselves in foul trouble throughout the night, but head coach Brad Brownell was most disappointed in the defensive effort shown from his team.
"I didn't think we played very hard or very well defensively, I didn't think we did what we came here to do," Brownell said. "Some of that's them certainly, some of its just inefficiency by us and lack of attention to detail."
The Demon Deacons had an excellent shooting night, hitting 45.9% of their shots from the field, which is the highest shooting percentage the Tigers have allowed to an ACC opponent this season. Wake Forrest definitely had the hot hand on Tuesday night, but Brownell also explained how their defense didn't do the Tigers any favors as well.
"And then I thought we just looked a little bit behind the play on some plays and we made some defensive mistakes certainly. I think we got a little spread and they got inside our defense," Brownell said. "Sometimes that happens when you're having a hard time defensively you get very man conscious and you're just guarding your guy and I thought that happened a little bit to us today."
Wake Forest senior guard and leading scorer Tyree Appleby gave Clemson headaches all night. He only had eight points in their previous meeting this season, but turned things around with a 24-point performance the second time around versus the Tigers. He was also a force on the defensive end of the court with a career-high five steals, essentially being the difference in the turnover battle that Clemson lost to 11-6.
"We didn't try to guard them as a team very well and we didn't have much success guarding them at all. So again, give their players credit, their staff credit, they played well," Brownell said.
The Tigers are surely disappointed with the results from their first game as a top-25-ranked team, earning a No. 19 ranking following their win over Duke. Center PJ Hall had his second straight 20-plus point performance, Hunter Tyson recorded his 10th double-double of the season, and freshman Chauncy Wiggins had a career-high 10 points and 30 minutes of action.
There's still a lot for Clemson to be excited about, as they still remain the top seed of the conference and will look to bounce back against Virginia Tech on Saturday at home in Littlejohn Coliseum, a place they haven't lost at all season.