Eric Mac Lain explains the importance of Dabo Swinney backing DJ Uiagalelei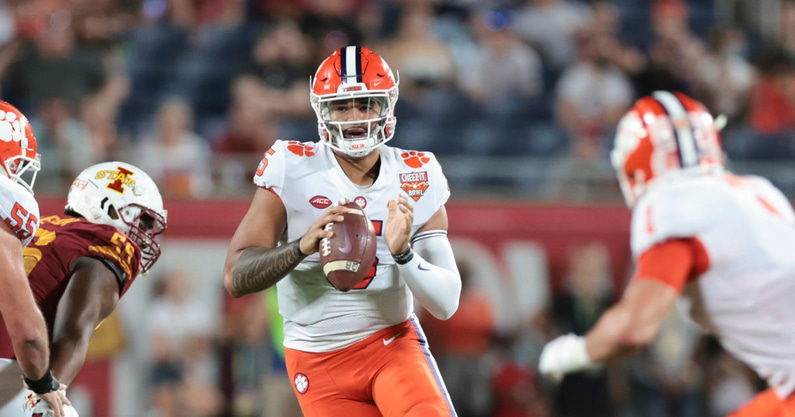 On3's JD PicKell recently gave us his take on the quarterback situation for the Clemson Tigers and how he expects it to play out. And on Thursday, he dove deeper into the topic bringing in ACC football expert Eric Mac Lain for his take on everything going down in the Clemson quarterback room. One of the things Mac Lain was keen on is the importance of head coach Dabo Swinney backing DJ Uiagalelei, hailing him the unquestioned starter for the Tigers to kick off the 2022 season.
"Yeah, it's huge, man. As we both know, that position is half mental," said Mac Lain. "I mean, there's so much that goes into it from a cerebral part; imagine if you didn't have the full support of your coaches, your players, your teammates, all these different things. So I think that constant reassurance, the constant affirmation that he has received, is massive and should certainly help his development and gain his confidence.
"Because the tools are there, we've seen it in flashes, especially in 2020, where he lit Boston College and Notre Dame on fire. I mean, he's the all-time passing leader against Notre Dame, and he did it as a true freshman. So, the tools are there. It's just the confidence, the mental side of it, some off-the-field things that I think he has grown from and become a better student-athlete. And we're gonna get to see that on full display this year."
CLICK HERE to subscribe to the On3 YouTube channel today for all of the latest news on college football, recruiting, NIL, more!
Swinney's backing of Uiagalelei should do wonders for the junior's confidence. While he didn't have the best year in 2021, he still possesses all the tools to be an elite college quarterback. And given that he was banged up much of last year, supporters of Uiagalelei probably feel he's entitled to a mulligan and Swinney is in full support of one.
Eric Mac Lain on Clemson's rebound
At one point in the video, PicKell asked Mac Lain what he thought the general vibe around the program was. To which the analyst responded:
"Yeah man, it's cool when you can kind of keep that inside look. And you can keep that going and the relationships with players, coaches, head coach. Just because you get a little bit different look than a lot of people do, and so the excitement level, is at an all-time high," Mac Lain said of getting to cover the team.