WATCH: Clemson football debates absurd question following summer workout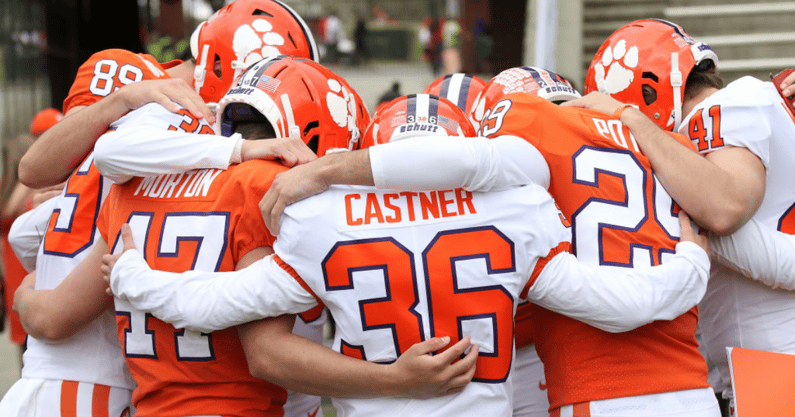 After a long day of summer workouts, the Clemson football team looked forward to the relaxation of a long shower and some air conditioning in the locker room. However, the social media team had a different idea as they proposed an age-old question which challenges the mind and each person's personal belief about their strengths and weaknesses.
Would you rather fight 15 duck-sized horses or one horse-sized duck?
As players walked through the building with their gear and smoothies, they stopped to answer the question and debate which task is easier.
"Is it all at one time?" asked one group of players. "Do I have a weapon? Do I have shoes on? Does a horse-sized duck have claws?" asked another.
After one player chose the horse-sized duck, another stepped in with the statement, "That's a big ole duck." A sentiment shared by his teammate who said, "That's a huge duck."
After hearing that the duck would stand at eye level and potentially peck his face, the group finally convinced one person to change sides to the 15 duck-sized horses.
One of the most interesting – and probably off-topic comments – questioned whether the large duck quaked 10-times as loud. Perhaps causing hearing damage in the middle of the fight as a tactic.
Others relied on children experiences or the idea that they could run away, although that might not work if the horse-sized duck retains its ability to fly.
More on the ducks and horses in question
Many versions of the age-old question about ducks and horses exist and range in numbers from 10 to 100 depending on who asks the question. Based on the number of duck-sized horses the person has to fight, the answer often changes.
The average horse stands around five feet tall to it's back and weighs around 1,000 pounds. The average duck on the other hand stands close to two feet long with a weight close to three pounds. One of the key factors in the decision comes down to whether the animals maintain their body mass or take on the body mass of the opposite animal when the switch occurs.
As the Clemson players observe, the timing of arrival and coordination of the duck-sized horses also matters.
Regardless of the answer, it appears there will always be others on the opposite side telling the reasons why the other animal would be easier to fight off as a human.