WATCH: Dabo Swinney uses slide to officially kick off fall camp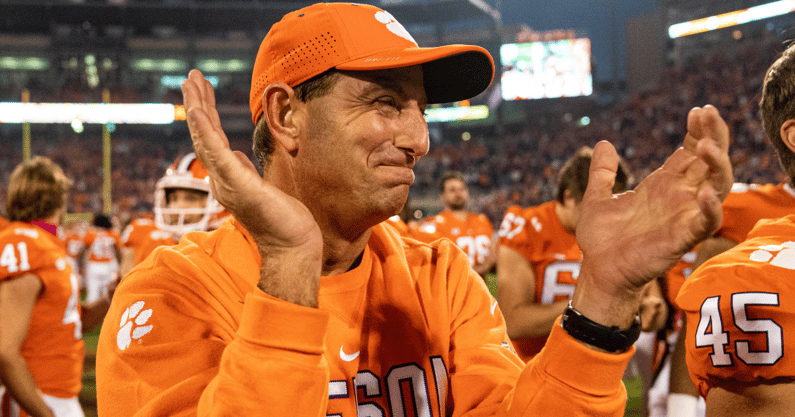 If anybody is going to have some fun coaching college football, it's Dabo Swinney. The Clemson head coach brings a positive energy into his program, wanting to enjoy every aspect of the sport as much as his players. On Friday, he showed off that side of him again, officially kicking fall camp off for the Tigers.
Facilities around the country have a lot of unique features but Clemson's slide is one of the more entertaining ones. Swinney used it to his advantage of it, using the prop to produce a fun video via the official Clemson Football Twitter account.
Coming around the corner hot, Swinney threw himself down the slide. As he was falling down he screamed "let's go" and perfectly stuck the landing while yelling "boom!" You can tell he is ready to get back into football, jogging straight into the weight room to get fall camp off to a positive start.
You can watch the full moment here.
Swinney will enter training camp one of the favorites to win the ACC. After having a long streak of dominating the conference, Clemson did not appear in the ACC Championship game this past season. One of the goals throughout fall camp will be getting the team in the right mindset to get back to where they think they belong.
Having an attitude such as this one will do nothing but help. Swinney knows when it's time to buckle down but still puts in effort to make videos such as this one for social media. It's part of the reason he has such a great relationship with his players, dating back to when they were recruits.
Clemson will begin their season on a Sunday, facing off against Georgia Tech in an ACC showdown. A big nonconference game against Notre Dame will most likely be the biggest point of the year, while a return to the College Football Playoff looms.