Dabo Swinney reveals why the freshman wide receiver class is special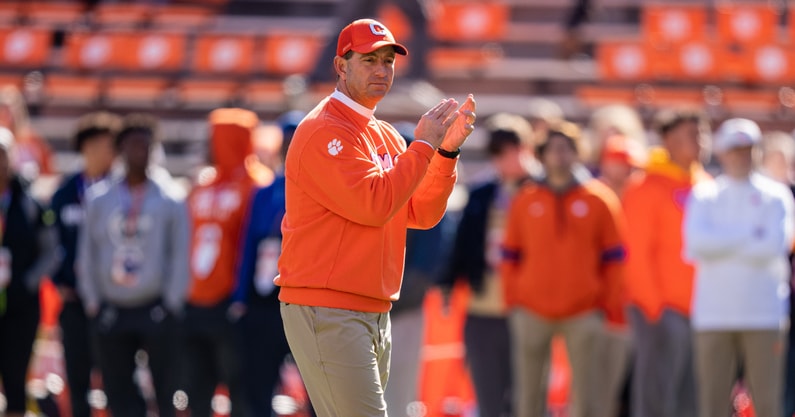 Dabo Swinney decided to put a huge emphasis on wide receiver in their 2022 recruiting class and the results are paying off thus far. Clemson signed three receivers and early in fall camp, there's been nothing but praise from Swinney. He "couldn't be more pleased" with the group, detailing exactly what each of them bring to the table
He began with Antonio Williams, laying out of few things the true freshman does well. He began with his speed but quickly transitioned into the mental aspect. Swinney said Williams is "knowledgable" and it translates from his success in high school football.
"He's as quick as a cat," Swinney said. "Really instinctive player. He's still got a lot going on, trying to maximize all his reps. Antonio is a really smooth, very knowledgable young player. He's got a lot of good experience. He's played ball at a high level in this state. He's had a lot of success and you see that in him. He's still got to get stronger and we still got to bring him along and he's competing with some pretty good vets out here."
Williams was the highest rated of the group, earning four-star status from the On3 Consensus. He finished as the No. 13 receiver in the country and No. 3 in his home state of South Carolina.
Dabo Swinney impressed with speed of Adam Randall
Not too far behind Williams, from a rankings perspective, was Adam Randall. Swinney was amazed by how quick Randall is, saying he was the fastest wide receiver in practice the other day. The head coach even did a double take when looking at the numbers, seeing 20 miles per hour.
"I mean, Adam Randall — he had the fastest wide receiver time in practice the other day," said Swinney. "He had the fastest time of all the wide receivers. I looked at it again like 'wait a minute.' He ran like 20 miles per hour or something like that, it's crazy. He's a true freshman. I saw enough of him in the spring."
Randall's speed was no surprise, as he was continually running sub-11 second 100-meter dashes in high school. Also from the state of South Carolina, Swinney made sure to grab another dynamic pass catcher from his backyard.
Cole Turner impressing with ball skills, body control
However, who Swinney might be the most impressed with is Cole Turner. The lowest ranked out of the bunch from Vestavia Hills, Alabama, Swinney said Turner has yet to drop a pass in practice. There's still work to be done in the weight room but a bright future is ahead of Turner.
"Cole Turner — he hadn't dropped a ball," Swinney said with a sound of disbelief. "He catches everything. I mean, if he touches it, he's got some of the most natural ball skills and body control and reactionary ability to wherever he is. Everything he touches, he catches. He's a kid that needs to get in the weight room but that kid right there, he's going to be special."