Dabo Swinney compares Cade Klubnik's situation to DJ Uiagalelei and Trevor Lawrence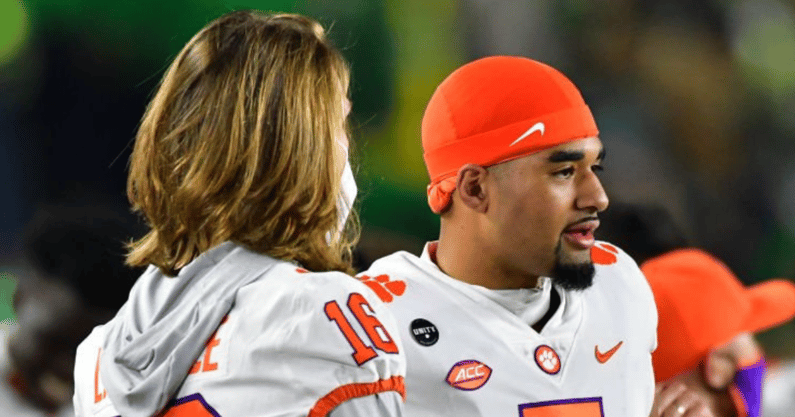 Dabo Swinney has become familiar with quarterback duos during his time at Clemson. Just a few seasons ago it was DJ Uiagalelei waiting for the keys to the offense from Trevor Lawrence. Now, Cade Klubnik has taken Uiagalelei's place as next in line.
With Klubnik on standby, Swinney was asked when, how much, or if we could expect to see him this fall. He says it'll be similar to Uiagalelei's situation with Lawrence where he had to wait his turn and pick his spots during the course of a game and season.
CLICK HERE to subscribe for FREE to the On3 YouTube channel
"I think it's more like DJ and Trevor. That's kinda how I see it. I think just like when DJ came in here, we wanted to get him as much opportunity as we could as much as we could within the flow of a game and the flow of the season," said Swinney. "That's what we did and he obviously ended up having to start a couple games. I see the same situation. DJ is the starter and we want to certainly get Cade as many opportunities as we can to play."
After Uiagalelei's play last season, some Tiger faithful wouldn't hate to see Klubnik get his shot. Dabo Swinney, however, has maintained the position that Uiagalelei will remain the starter. He says he's very comfortable with the quarterback depth as a whole. Between their trio of signal callers, he thinks his program is in a great spot with that position.
"(We're) really, really excited. All three of our quarterbacks that have taken a majority of the reps in camp have really done a great job. I can't tell you how fortunate we are to have the guys we got," Swinney said. "DJ has been great, Cade has been awesome, and so has Hunter Johnson. I'm confident in all those guys."
No matter how this season goes, though, Klubnik is the future. With that in mind, Dabo Swinney is almost required to get creative in finding ways to get his five-star freshman on the field. Klubnik's time is coming whether it's this season or next. It's now on Swinney to get him out there in some capacity this fall.
"It's important to get Cade some opportunity as we go through the season because, I mean, this is it for Hunter and I know (DJ's) got great aspirations. He's graduating in December. It's important to get Cade ready to roll and hopefully it'll happen in a positive way as we go through the season (where) he'll get plenty of experience."