Dabo Swinney on if it felt good to see DJ Uiagalelei succeed: "Heck yeah"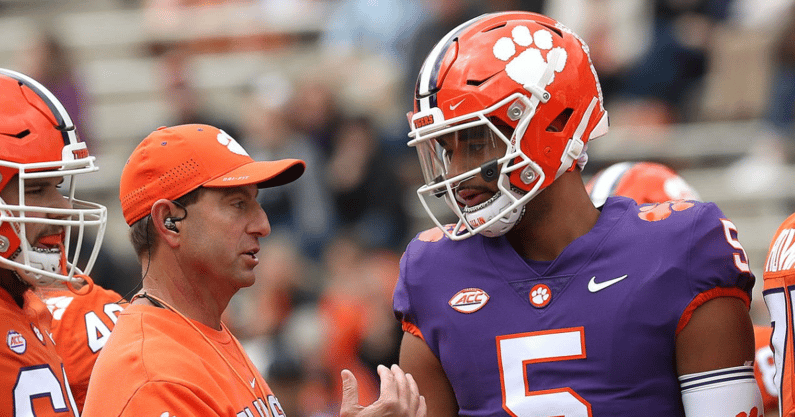 It's no secret how much the Clemson Tiger offense struggled in 2021. They finished 82nd in points per game with 26.8 and averaged just 360.8 total yards of offense a contest. Plenty of the blame fell upon starting quarterback DJ Uiagalelei. With some better performances in the spring and now in fall camp, it's something head coach Dabo Swinney is excited about.
Swinney was asked if it made him happy to see the Tiger offense succeed during their scrimmage on Saturday. He made his excitement very clear in his response.
"Heck yeah. I mean, shoot, we were a mess," said Swinney. "Just to see the confidence and the guys making plays and just seeing the knowledge being applied? They've taken it from meeting rooms and applied it."
Uiagalelei entered last season as a Heisman hopeful in his first opportunity as a full-time starter. That chance got off the rails very quickly and never fully recovered. He threw for less than 175 yards per game over his 13 starts and threw just nine touchdowns all year. Pair that with Uiagalelei's 10 interceptions and there weren't many happy faces when it came to the Clemson offense or QB.
Swinney has defended Uiagalelei on multiple occasions and did so again during his answer. He says Clemson's offensive woes didn't fall solely on his quarterback. He believes the offense around him wasn't much better either. With a new year ahead, Dabo Swinney says he has already seen improvement in the supporting cast and, in turn, DJ this fall.
"What does everything (good) around the quarterback make him? Better. When all that ain't good, does it make it better or worse? Worse. Exactly. This ain't rocket science. It affects their confidence and all those things," Swinney said. "Quarterbacks start trying to do too much and then quarterbacks get all the blame. They get all the credit too but it's fun to see our quarterbacks starting to just have a little calmness to them because we're better around them."
It sounds like Swinney is fully expecting an improved Uiagalelei this fall. If not, Cade Klubnik is also waiting on the sideline for his opportunity. Either way, QB play should be much better in Death Valley this season. If Swinney and his staff can get that right this time around, it'll go a long way in helping their chances to make the College Football Playoff this year.