DJ Uiagalelei, Clemson offense having fun during recent stretch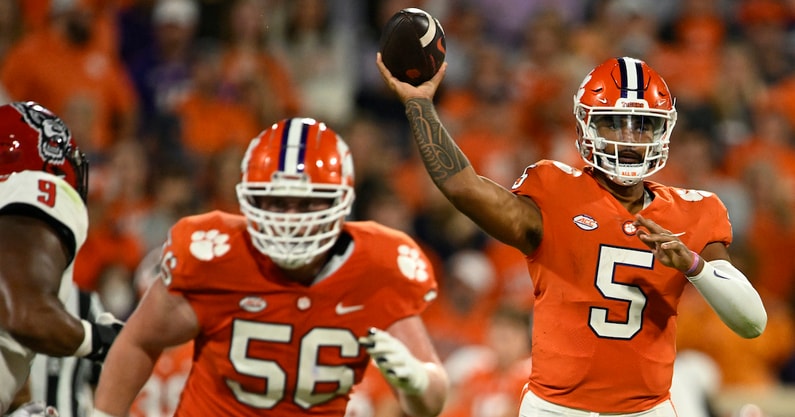 Clemson's offense has taken off in recents weeks as quarterback DJ Uiagalelei looks as good as ever and the playmakers around him have started to tick. And though the point totals might not fully reflect it, the last two games — against Wake Forest and North Carolina State — were some of the best from a Clemson offense since Trevor Lawrence was at the helm.
The Tigers are having a lot of fun with this newfound offensive spark, Uiagalelei said. With the 14th-ranked scoring offense nationally at 41 points-per-game, there's no reason to think the fun has to stop any time soon.
"Yeah, I think definitely having a lot of fun out there. I mean, you probably see it by the way we play. A lot of guys have a lot of energy out there. Just having fun man, playing with each other on offense. We just keep growing, each and every game," Uiagalelei said. "There's a lot of room for improvement, still, but we're doing a lot of great things on offense. And like you said, man, we're just out there, just playing. We're not out there manufacturing points, we're just going out there and having fun."
CLICK HERE to subscribe for FREE to the On3 YouTube channel
Uiagalelei himself has played some of his best ball in the last two games.
His combined stat line from wins against Wake Forest and North Carolina State: 47-for-71 passing (66.2%) for 580 yards, 125 rushing yards and eight total touchdowns. He has not turned the ball over in either game.
On top of Uiagalelei's burgeoning play, Clemson has had a bevy of playmakers step up. From running back Will Shipley to wide receivers Antonio Williams, Beaux Collins, Jake Briningstool and Joseph Ngata to tight end Davis Allen, a reliable cast of skill players is emerging around the quarterback.
At the current rate, Uiagalelei thinks there's more yet to squeeze out of this offense.
"Definitely could put up a lot more points and I feel like we definitely will as the season goes on and we continue to keep getting better. So it's exciting, man," Uiagalelei said. "Real exciting."