DJ Uiagalelei opens up on what rivalry with South Carolina means to him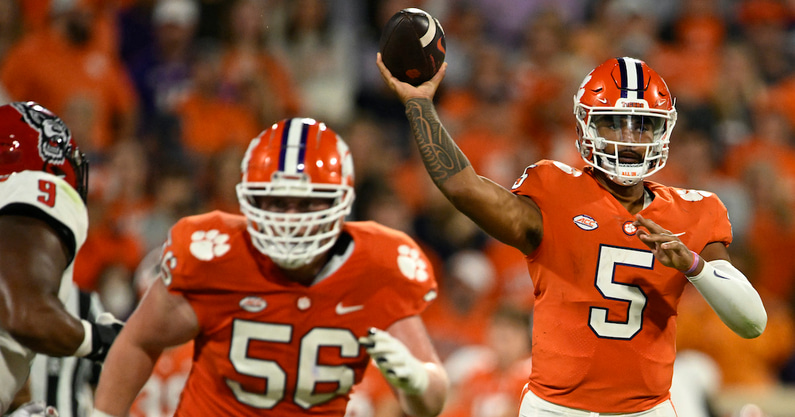 It's rivalry week in college football, which means the Palmetto Bowl between No. 8 Clemson and South Carolina will be on center stage once again. This year, the odds are stacked against the Tigers in terms of the College Football Playoffs, while the Gamecocks are playing as well as any team Clemson has faced this season.
Tigers quarterback DJ Uiagalelei discussed the importance of winning the Clemson-Carolina Game, and what it means for not only him, but the Clemson community at large.
"I think Coach Swinney, he's always said it — it's a game of its own, it's a season of its own. One game mentality," Uiagalelei said. "It's a huge game, this is South Carolina, it's our rival right here. And I know it means a lot to a lot of people here in South Carolina, a lot of Clemson fans. It means a lot to me, it means a lot to the team.
"Gotta be able to have our best week this week, put our best foot forward, continue to keep working, continue to keep grinding. Get in the film room, have great practices. Just treat it exactly the same as every other week. But it definitely means a lot to us."
CLICK HERE to subscribe for FREE to the On3 YouTube channel
Last season, which serves as Uiagalelei's first and only game against South Carolina, saw the Tigers shutout the Gamecocks on the road 30-0. Uiagalelei went 9-of-19 passing for 99 yards and an interception. He also added five carries for 33 yards in the victory.
That was last year's Gamecocks, though. Head coach Shane Beamer is coming into his own as South Carolina head coach and has earned some huge victories this season, most notably ruining Tennessee's hopes at a CFP berth, curb stomping the Vols 63-38 just last week.
The Tigers will need more out of Uiagalelei than they got last season if Clemson wants to secure another 11-win season under head coach Dabo Swinney. Kickoff for Saturday's rivalry matchup is set for noon ET from Death Valley live on ABC.