Clemson to be without Chase Hunter against Georgia Tech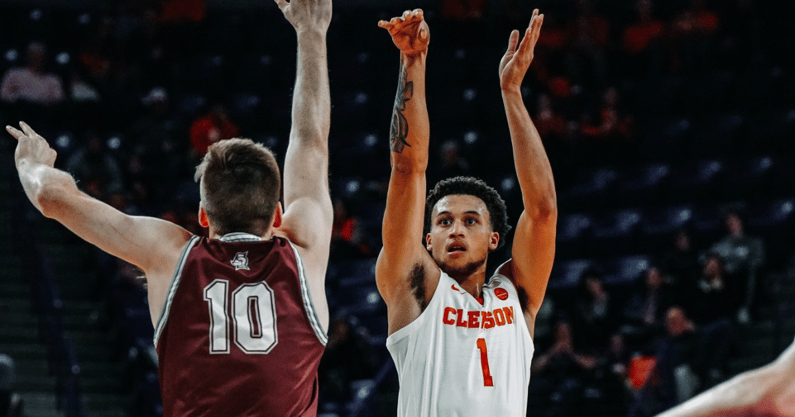 Clemson finds itself in first place in the ACC but will be tested once again against Georgia Tech. Head coach Brad Brownell is still dealing with some injuries though, missing some key players heading into the conference matchup.
According to Matt Connolly of On3's Clemson Sports, guard Chase Hunter will not play in Tuesday night's game against Georgia Tech. While there was initial hope he could play for the Tigers, he is not quite ready yet and will miss another game.
"Clemson G Chase Hunter will miss tonight's game against Georgia Tech, according to a source," Connolly said. "He's getting close and the staff was hopeful he could play but he will be out."
Hunter has not appeared in a game for Clemson since Jan. 14 against Duke due to a foot injury. He is tied for second on the team in scoring, averaging 14 points a game. Where he has been most valuable for Brownell has been with his passing, averaging 4.3 assists per game.
Alex Hemenway, who has missed a significant amount of time for Clemson, will not play either. The two players continue to be out as we inch closer to February.
Brad Brownell breaks down game-winning shot for Clemson vs. Virginia Tech
Hunter Tyson was the hero for Clemson on Saturday, as the Tigers wing drained a game-winning three-point shot to defeat Virginia Tech.
Afterward, Clemson leader Brad Brownell spoke about Tyson's moxie during his post-game press conference, and how he had an inkling that it would be a special day for one of his stars.
"He's one of our best players. He's been in it. I felt like he was going to make a play today," stated Brownell. "He had the option. He could shoot the three. Drive. He could throw it to PJ. He could do different things. But I told him, I said, 'If you're open, shoot it. A guy may run at you. If he's running at you, shot-fake. You're going to have poise and time and space to make the right basketball play.'
"We just talked about that a lot as a team. Read the game, make the right basketball play. It was a big time shot."
Moreover, the shot gave Clemson a 51-50 lead at the time, which of course resulted in a eruption from the crowd at Littlejohn Coliseum. From there, the defense did its part to come up with a stop on the ensuing possession and escape with the win and improve to 8-1 in ACC play.