Strong candidate emerges for Clemson defensive coordinator position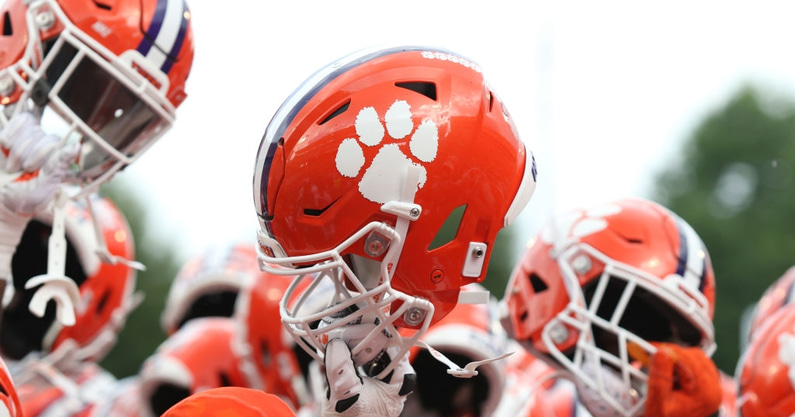 Following Brent Venables accepting the head coaching job with Oklahoma, Clemson appears to be closing in on their replacement defensive coordinator. The Tigers may name senior defensive assistant Wes Goodwin as their next defensive coordinator, promoting the highly respected coach.
Clemson's possible new defensive coordinator
"Senior defensive assistant Wes Goodwin is a strong candidate to replace Brent Venables at Clemson in a coordinator/co-coordinator role on defense," stated ESPN's Chris Low on Tuesday. "Goodwin is highly respected, and Dabo Swinney knows first-hand that in-house promotions can work out just fine."
While Goodwin hasn't officially been an on-field coach yet, the news indicates that he may be taking over a key spot in Clemson's staff. The potential co-coordinator role is reported to be Goodwin and assistant coach Mickey Conn working together. Clemson's upcoming bowl game could be a trial run for Goodwin at the position.
Goodwin is currently working as a senior defensive analyst in his second stint at Clemson. Goodwin worked as a grad assistant at Clemson from 2009-11 and then as a defensive analyst for the Tigers from 2012-14. He returned to Clemson in 2018 and has been with the Tigers ever since.
Clemson staff and players on Goodwin
"He's a genius. He is a football mastermind," said one former Clemson player, via On3's Matt Connolly. "He really reminds me a lot of – I don't want to compare him to [Bill] Belichick, but that's the vibes I get. Like it's football only. Dude doesn't leave the office. He's a grinder. He knows every single piece about defensive football."
The theme of comparing Goodwin to New England Patriots head coach Bill Belichick continued with others who have spent time with him.
"He is a brilliant football mind," said another Clemson staff member via Connolly. "We called him Wesilchick – short for Belichick. Probably the most underrated football coach in all of college football. He is one of the best defensive minds I've ever been around. He is a great teacher. He has great patience. He has a humbleness about him, although as smart as he is, he carries himself in a great way.
"I just think he's been around sports and been around people that know sports at a high level for a long time. I think he just gets it. He's very passionate about what he does. There's nobody that's going to work harder than Wes. He's always the first one in and last one out. That's all I've known him as is a worker, a grinder, just a brilliant football mind."