On300 ATH Ju'Juan Johnson commits to Colorado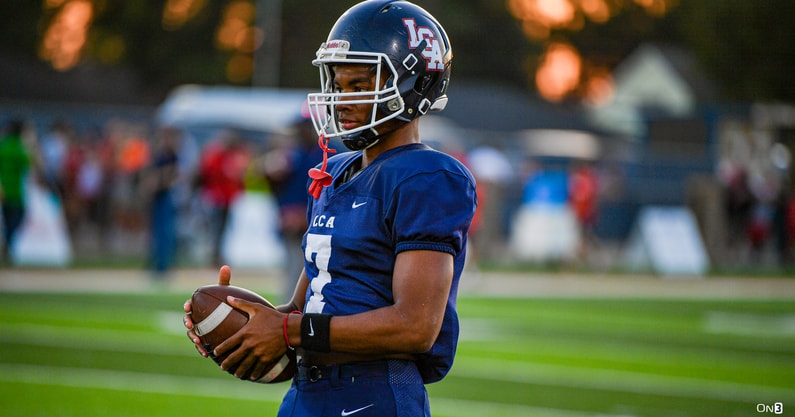 Commitment has been on Ju'Juan Johnson's mind for several months already and with the calendar officially flipped to the 2024 class, one of the nation's best athletes is ready.
Johnson, the On3 Consensus' No. 18 ATH in the country out of Lafayette (La.) Christian Academy, committed to Colorado over the likes of LSU and Florida. Johnson, who landed an offer from Deion Sanders and the Buffs a little more than a month ago in December, made his first and most recent visit to Boulder last weekend.
"I wanted to be apart of a foundation," Johnson told On3. "I wanted to build something that has I feel like been broken. The people there are changing the game with their actions and the culture I wanted to be apart of something bigger than just football and I feel like the school is getting ready to do something bigger than just football.
"I feel like when I leave this school I'm gonna be a better man, not just a football player," he added
Deion Sanders, Colorado beat out the SEC for Johnson
As a junior last season, Johnson accounted for more than 4,000 yards and 43 touchdowns passing and another 1,300 yards and 17 scores rushing. That includes a record-setting performance as the state runners-up with 585 yards and five touchdowns in his junior finale.
When Johnson plays on Saturdays, he'll shift over to the defensive side of the ball. Sanders' presence looms large toward the four-star athlete's development.
"Deion Sanders, you know him," Johnson previously told On3. "You see him playing and he was a great player. If you can be a great player you can be a great coach, especially at the same position, so it would be a blessing to have him as a coach."
"I never thought I'd have to go to Colorado, but it's a blessing to be around it," he added.
Johnson checks in as the No. 195 player in the country, according to the On3 Consensus, a complete and equally weighted industry-generated average that utilizes all four major recruiting media companies.