Top-20 junior Isaiah Evans commits to Duke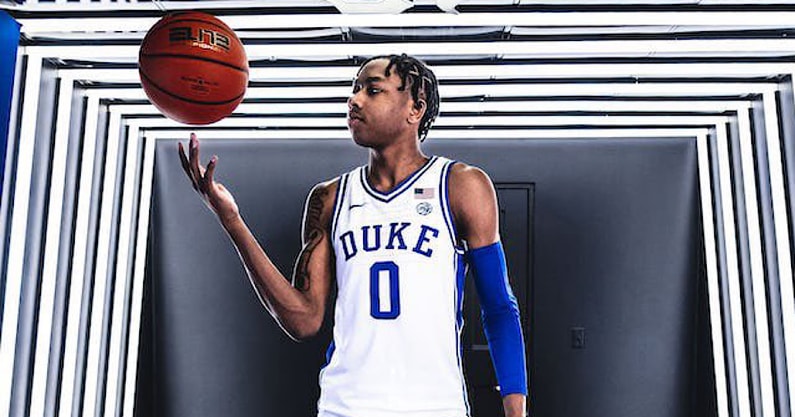 Huntersville (N.C.) North Mecklenburg small forward Isaiah Evans has committed to Duke.
The 6-foot-6, 165-pound junior prospect chose the Blue Devils over offers from Kansas, NC State, Tennessee, Texas, Auburn, Florida State, and others. According to the On3 Industry Ranking, Evans ranks 16th nationally in the class of 2024.
Evans recently visited the Blue Devils and discussed the trip with On3.
Evans talks Duke visit
"I liked how they went in-depth with how they were going to use me," Evans told On3. "They showed me certain games with certain players with how I would fit into their system. I watched a lot of their games this season like I do with all the schools recruiting me. I'd look for in the game the plays they showed me of how I would fit. I was into it.
"I like Coach (Jon) Scheyer. He lets his players play, gives them freedom, and he has been around Duke basketball for a long time. I think he is a good coach, and I have a high opinion of him. After the visit, I was playing through in my mind who they compared me to, like Brandon Ingram and Mark Mitchell. The long guards and wings they have had that can put it on the floor and shoot it.
"Duke is Duke, and there is no getting around that. If you grew up around basketball, it speaks for itself."
Scouting Summary
"Isaiah Evans is a lengthy prospect, all arms and legs right now. He moves fluidly and is comfortable handling the ball in the open floor. He is good in the passing lanes; his length and anticipation help deflections. Evans is very thin and will need to continue adding weight. The jump shot comes across his face and is inconsistent. Good off-ball cutter seems to have a high basketball IQ. Inconsistent in creating in the half-court, re-tooling the jump shot will also help here. He has a lot of tools and a natural basketball IQ; he also competes and does a lot of the little things." – On3's Jamie Shaw
On3 NIL Valuation
Isaiah Evans currently holds a $205,000 On3 NIL Valuation, which ranks 46th in the On3 HS Basketball NIL Ranking.
The On3 NIL Valuation is the industry's leading index that sets the standard market NIL value for high school and college athletes. A proprietary algorithm, the On3 NIL Valuation calculates an athlete's NIL value using dynamic data points targeting three primary categories: performance, influence and exposure.
About On3 NIL Valuation, Brand Value, Roster Value
While the algorithm includes deal data, it does not act as a tracker of the value of NIL deals athletes have completed to date, nor does it set an athlete's NIL valuation for their entire career.
The On3 NIL Valuation accounts for an athlete's roster value and brand value. Roster value is the value an athlete has by being a member of his or her team at his or her school, which factors into the role of NIL collectives. Brand value factors in an athlete's personal brand and the value it could bring to regional and national brands outside of the scope of NIL collectives.