WATCH: Duke players walk off court without shaking hands following Final Four loss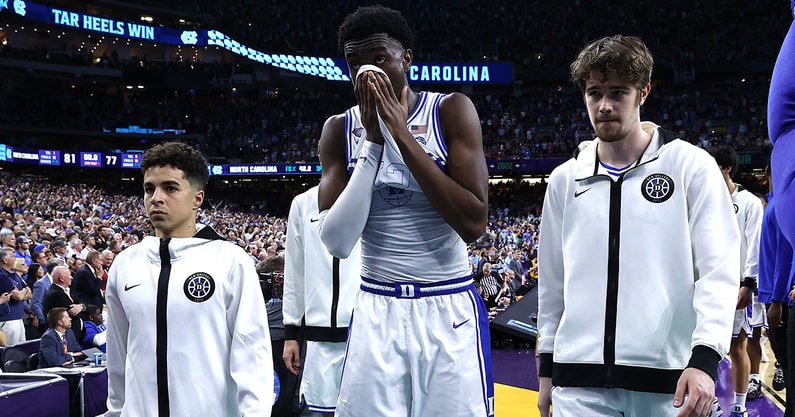 North Carolina and Duke played an instant classic in the Final Four on Saturday night. But after the game, Blue Devils players became a hot topic on social media.
After the game, the players appeared to walk off the court straight to the locker room without shaking hands. Coach Mike Krzyzewski, who saw his career come to an end with the loss, went through the line, but many of the players instead went straight back.
With the win, North Carolina punched its ticket to the first time since winning it all in 2017. The Tar Heels have a date with Kansas on Monday in the national championship in New Orleans. For Krzyzewski, it's the end of a nearly 50-year career — including 42 years at Duke — that featured five national championships and the most wins in NCAA history.
Caleb Love hits tough shot to lift North Carolina to title game
It was a highly anticipated game for a reason, and Duke vs. North Carolina certainly lived up to the billing.
The two teams traded blows in the second half, seemingly going punch for punch down the stretch. In the end, North Carolina came out on top 81-77, ending Duke's season — and, therefore, ending Mike Krzyzewski's coaching career.
With 18 lead changes, it was nothing short of an instant classic.
Duke had the lead at halftime, 37-34, but North Carolina went on a run to start the second half to make things interesting. The two teams traded blows down the stretch, always seeming to have an answer for one another. Ultimately, North Carolina struck the final blow.
Armando Bacot led the charge for North Carolina, pulling down 21 rebounds in addition to his 11 points before fouling out with 46.7 seconds to play. Caleb Love led the Tar Heels in scoring with 27 points, including the dagger three with 24 seconds to play. It only added to his massive NCAA Tournament this year.
For Duke, Paolo Banchero scored 20 points and pulled down 10 rebounds to lead the Blue Devils with a double-double. The Blue Devils ran into foul trouble in the first half, but managed to fight through it into the second half to add to the craziness of the game.