Billy Napier reveals early impressions of Florida camp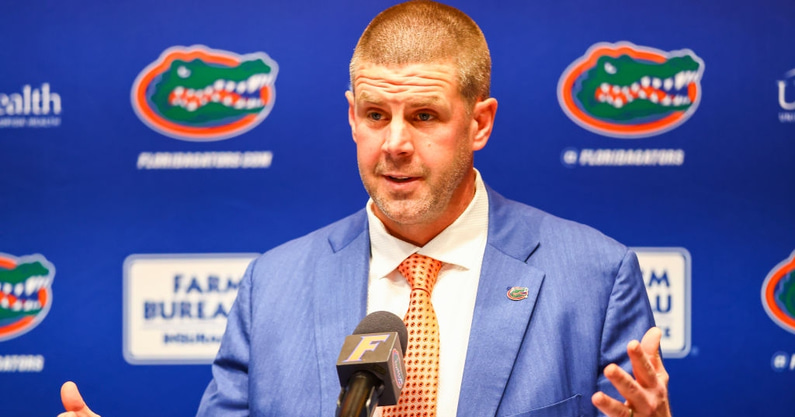 First-year Florida head coach Billy Napier spoke prior to practice on Tuesday about how much progress he's made as fall camp continues. Napier outlined their current practice progress and highlighted that their current goal is ramping up to the team's first scrimmage on Saturday.
Billy Napier on Florida's camp progress
"We continue to get really high quality work, we're kinda working our way through the installation," said Napier. "We got miles to go. We're inching along here, but really have strung some productive days together. We need to continue to do that, we'll be in full gear today for the first time, practice number six. I think we got momentum, we got a little bit of momentum. We're trying to build towards Saturday, being scrimmage number one.
"We've been two days in 'Spiders', three days in 'Shells.' So we're ramping it up here, and really pleased with the progress. At this time of the year, it's all about the right combination of what volume of install are you carrying and then the level of execution."
As the week rolls on, the Gators' first full practice on Tuesday was another milestone for Napier's team to clear as he continues to build up the program in his system. Florida will hold their first team scrimmage on Saturday, which they are clearly using as a first real measuring stick for their progress this offseason.
Napier then turned to the difficulty he and his coaching staff face currently as they prepare their players to succeed on the field while learning a new head coach's system. Although coaches constantly are having to bring their players up to speed on expectations and the details of a system, Napier understands being in his first year as an SEC coach that he's got to develop a process that works.
"So I think we've seen kind of the ebbs and flows of that. When you throw a lot of information at them, maybe the execution level goes down. And then we kinda recover and then improve. So that's kinda where we're at. I think as a staff we're kinda in that mode of evaluating what's productive for this group of players. What can we execute efficiently? And then individual players. What are we going to build around? What are the strengths and weaknesses of each unit? Less of this, more of that — oftentimes very much a process."