Billy Napier reveals what he admires most about quarterback Anthony Richardson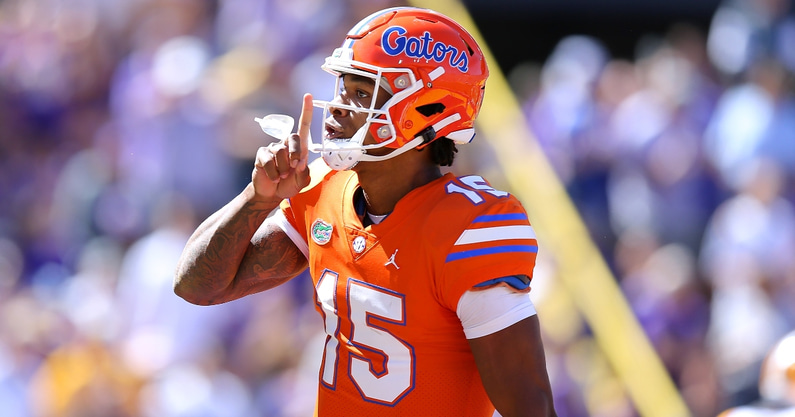 Anthony Richardson's first start in the Swamp was one to remember, and is the talk of college football following Week 1. Following the 29-26 upset victory over Utah last Saturday, Florida head coach Billy Napier raved about his QB1's performance – and even better – his leadership abilities.
"He's thinking about probably the six or eight plays where he could have done a little bit better," Napier said of Richardson. "That's what I love about him. He's very critical of himself. He's an unbelievable competitor. We all know that kid's got physical talent – we've known that for a long time – but what's impressed me is his work ethic, discipline, his detail. He's a good teammate, he's a great example. He's selfless."
CLICK HERE to subscribe for FREE to the On3 YouTube channel
The dual-threat quarterback threw for 168 yards on 24 attempts in the upset win over then-No. 7 Utah with a high passing success rate (58.3 percent) and zero sacks taken. On the ground, the 232-pound quarterback was a difference-maker with 106 yards on 11 attempts with three touchdowns on an outstanding rushing success rate (72.7 percent).
That included a 45-yard touchdown run that came late in the second quarter and a rushing touchdown that would prove to be the game winner with under two minutes remaining. Richardson was the best player on the field in a huge win for the Gators, and people are taking notice.
With a lot of buzz buzz surrounding Richardson this week, Kentucky faces a stiff challenge against the Gators' offense, and are in the midst of scheming up a better plan for him than Utah did, as Richardson gave the Gators supreme efficiency throughout the game with just enough explosive plays to log a win.
"I mean, this kid's had the spotlight on him for a long time," Napier said. "You may worry that could affect him, but I think it's made him better, personally. I think he, being from Gainesville, I think he realizes the platform, the opportunity, the example that he can set in the building, and then also within our community. Anthony's going to stay humble, and it's his first start in the Swamp, so he's going to continue to improve and I'm certainly thankful we've got him."
Now with national attention shining upon Richardson ahead of Saturday's marquee matchup against the No. 20 Wildcats, Florida has the chase to start the season out 2-0 and begin knocking on No. 2 Georgia's door for the SEC East crown.