4-star RB Trevor Etienne opts for 'something new' commits to Florida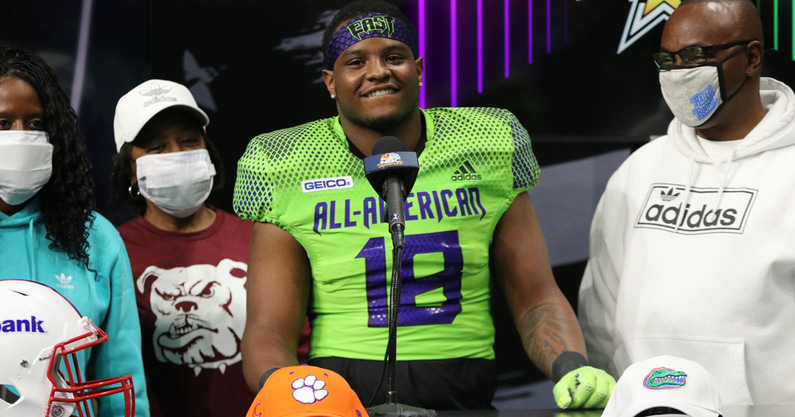 SAN ANTONIO, Texas – Jennings, La., running back Trevor Etienne is going down his own path.
The No. 290 overall prospect in the On3 Consensus rankings picked Florida over home-state LSU and his brother's former school Clemson.
"It's something new," Etienne said. "I wanted to see myself doing something new and doing something I haven't experienced. My brother went to Clemson. I've been to LSU a couple of times. I've never really been to Florida. That's something I want to experience."
The Gators had Etienne sold before the firing of Dan Mullen. Etienne was initially trying to decide between Florida and Georgia before the Bulldogs added Jordan James to their class. That knocked the Bulldogs out of the race for the Lousiana running back.
He has taken his time to get to know the new staff led by Billy Napier. Etienne was already familiar with Napier prior to his jump to Florida. Napier has recruited Lousiana throughout Etienne's high school career.
"Him taking the job kind of took a weight off my shoulders for now knowing who was going to be there," Etienne said. "I had a great relationship with coach Napier from UL. I live 30 minutes from there. We had that relationship with each other. That was just another win for me."
The city of Gainesville played a big part in pulling Etienne away from his home state and his home away from home Clemson.
"I fell in love with the place when I went there," Etienne said. "That's somewhere I could see myself living. I just love the state of Florida."
Etienne still feels Clemson is another home. He's spent much of the last few years on the Clemson campus. Etienne feels he'll still make an effort to be around the school whenever he can.
"I have nothing but love for Clemson," Etienne said. "I love going to Clemson. If I can, I'll get there I can. It was between Florida and Clemson."
Florida depth chart favorable for Trevor Etienne
The Gators depth chart offers Etienne some potential carries early in his career. The Gators will lose their top-two rushing running backs to graduation.
Dameon Pierce and Malik Davis both will be moving on from Gainesville. Etienne admits the potential to earn some early snaps was an intriguing factor.
"Of course, I want to come in and play early and them being in that situation is a win-win for me," Etienne said. "It's a blessing."
Etienne hopes to be a foundational piece in Napier's first signing class. Etienne doesn't have a win-loss expectation, more of an effort requirement.
"I just want to be on a team where everyone wants it as bad as I do," Etienne said. "We go out there and work hard every day, that's all I ask for from other guys and from myself."