Billy Napier provides lengthy injury report for FSU game, multiple WRs out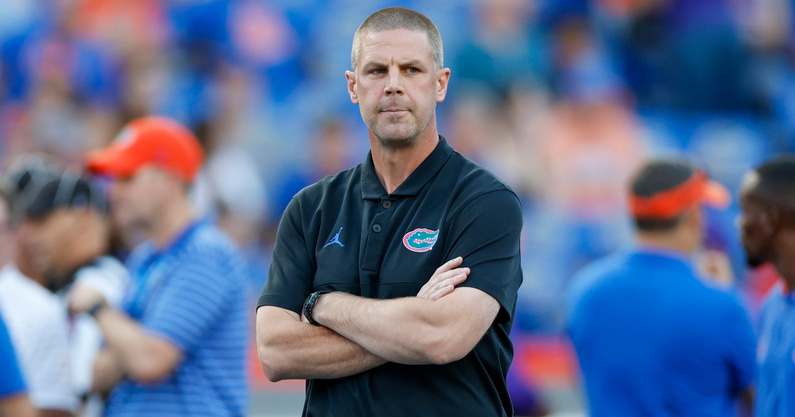 Billy Napier finds himself in unfamiliar territory this week, playing a game on Friday. It's not just any game either, with the Florida Gators traveling to face their in-state rivals, the Florida State Seminoles. A tough Black Friday prime-time environment can be difficult but when you have injury problems like Florida, things get tougher.
An injury report before the game was provided by Napier via Edgar Thompson of the Orlando Sentinel, with some problems stacking up at wide receiver. Four players at the position will miss the Florida State game, beginning with Xzavier Henderson and Justin Shorter. Two of the Gators' top three receivers, both are out with lower-body injuries according to the head coach.
CLICK HERE to subscribe for FREE to the On3 YouTube channel
Thai Chiaokhiao-Bowman and Marcus Burke will not be available either, having their own respective upper-body injuries.
Napier was able to provide some slightly encouraging news, saying Ricky Pearsall is considered questionable with a lower-body injury. If he is about to play against the Seminoles, Pearsall will likely be the top target for quarterback Anthony Richardson throughout the game.
A tough task is ahead of the Florida offense with so many pass catchers out against Florida State. Napier will have to find a way to go deep into the depth chart and get positive results.
Billy Napier seeking better intensity early in games
Florida suffered from a big upset loss this weekend, losing to Vanderbilt 31-24 and snapping an eight-game winning streak against the Commodores. The Gators got off to a slow start in their game this weekend, a problem that they've faced on various occasions this season. Head coach Billy Napier was asked about the slow start of his team and agreed with it being an issue.
"I agree with you, I think about that at times," Napier admitted. "Until you get in the middle of the fight, I think that's one of the things kind of like we're talking about Mark's question relative to performing with consistency."
The Gators found themselves down 14-6 at halftime, and then down 28-12 headed into the fourth quarter on Saturday before making a late rally that wasn't enough to secure them a win. Napier elaborated on his team's sluggish starts and the factors that contribute to them.
"Handling success, handling failure, being a consistent competitor, and I think ultimately when you see that you kind of flip that switch at times when you get behind or maybe you're behind the eight ball or it's a closer game than you expected," Napier said.