Massive list of elite recruits set to visit Florida this weekend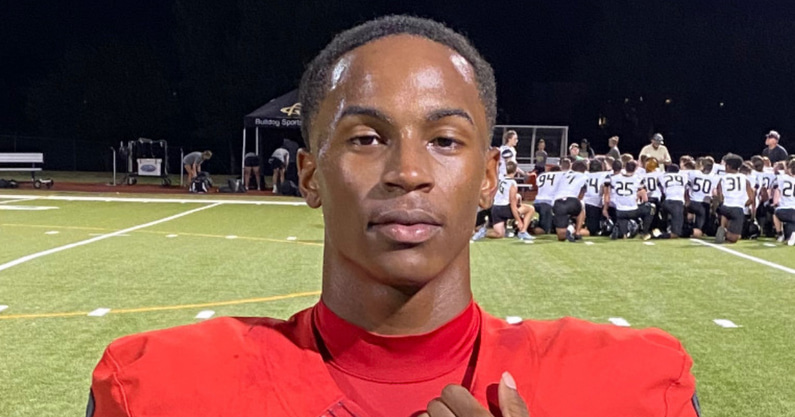 Florida hosts Alabama in one of the most anticipated games of the weekend, and it's no surprise that Dan Mullen's crew is expected to host a long list of visitors in The Swamp.
The Gators are not expecting to host any official visits this weekend, instead choosing to bring those visitors in next week when Tennessee comes to town. But don't let that fool you. This is an important list of recruits, and the Gators are looking to make a big impression on some key targets.
Gators get chance to wow No. 1 WR Evan Stewart
Evan Stewart of Frisco (Texas) Liberty is the fifth-ranked player in the country, the No. 1 receiver and the most coveted recruit on the Gators' board. He's the teammate of four-star Florida quarterback commitment Nick Evers and there's intel the Gators have a legit chance to reel in Stewart.
On3's Gerry Hamilton says that's especially true if the Texas Longhorns continue to struggle on the field. Hamilton listed Stewart as the Gators' No. 1 prospect that could make their 2022 recruiting class.
Having Stewart in The Swamp with Evers is a big deal and a chance for UF to gain some big momentum. This will be Stewart's third visit to Gainesville.
5-star Walter Nolen heading to The Swamp, too
Fresh off what his family called an "impressive" and "overwhelmingly positive" visit to Michigan, five-star defensive lineman Walter Nolen of Powell (Tenn.) High will be in Gainesville for an unofficial visit.
Nolen, the No. 4 player in the On300, already took an official visit to Florida, so this is another opportunity for the Gators to show they're a factor in his recruitment.
Three weeks ago, Nolen said his focus was on three schools – Texas A&M, Tennessee and Georgia. Florida wasn't mentioned among his top teams, so this weekend's trip is a chance for the Gators to make up some ground. Much like it sounds like Michigan did.
On3 National Analyst Chad Simmons broke down Nolen's recruitment after he released the top three. Heading into the season, Simmons said Tennessee and Texas A&M were the teams at the top of his list.
Priority UF target Jaheim Singletary visiting
You know your visit list is loaded with talent when the No. 36 player in the country and No. 7 cornerback is mentioned third. But make no mistake Jaheim Singletary of Jacksonville (Fla.) Robert E. Lee is an important unofficial visitor for Florida this weekend.
While cornerback isn't the highest on the wish list from a need standpoint, UF wants to add four-star Singletary to the #ChosenFew22 crew.  The former Ohio State commitment has not hidden his affection for the Miami Hurricanes and the Gators are working hard to make up ground. Georgia is also expected to make his top list of schools when it's released soon.
4-star DL Chris McClellan checking out Florida
Owasso (Okla.) High four-star Chris McClellan remains one of the most heavily pursued defensive linemen in the country. His visit to Gainesville will give Florida a chance to get some momentum in his recruitment after seemingly slipping behind Alabama, Ohio State and Oklahoma.
McClellan, the No. 85 player in the country, is coming off an unofficial visit to Oklahoma. He's also going to return to Norman for an official visit either on Sept. 25 or Nov. 20. He'll also make his way to Tuscaloosa for an official the weekend of Oct. 23 when the Crimson Tide plays Tennessee.
Florida has its work cut out to make a move for McClellan, but a strong visit could change that.
Other top Florida visitors
+Five-star DL Mykel Williams of Columbus (Ga.) Hardaway might be at The Swamp, according to his family. The five-star USC commitment has been looking at other programs, especially Georgia, and the firing of Clay Helton has kicked that exploration into high gear. His family told On3's WeAreSC they're thinking about visiting Florida this weekend.
+A long list of other uncommitted four-star recruits is set to be at the game. Some of the top names are On300 WR Jayden Gibson of Winter Garden (Fla.) West Orange, consensus four-star DL Jamari Lyons of Melbourne (Fla.) Viera, consensus four-star CB Austin Ausberry of Baton Rouge (La.) University Lab and consensus four-star safety Azareyeh Thomas of Niceville (Fla.) High.
+Several players committed to other schools are also on the list. The biggest of note is consensus four-star IOL Qae'shon Sapp of Leesburg (Ga.) Lee County. Notre Dame consensus three-star safety commit Devin Moore of Naples (Fla.) High is an interesting name to watch if he is at the game as expected. The same is true with Tennessee DL pledge and consensus three-star Jordan Phillips.
+A majority of UF's 2022 and 2023 commits should be at The Swamp, but four 2023 names to watch are five-star CB Cormani McClain of Lakeland (Fla.) Lake Gibson, five-star DL Vic Burley of Warner Robins (Ga.) High, four-star WR Jalen Brown of Miami Gulliver Prep and four-star RB Treyaun Webb of Jacksonville Trinity Christian. Webb is an early Oklahoma commitment.
Top 100 juniors S Tony Mitchell of Alabaster (Ala.) Thompson, Jahlil Hurley of Florence (Ala.) High, CB Kayin Lee of Ellenwood (Ga.) Cedar Grove, DL Derrick LeBlanc of Kissimmee (Fla.) Osceola, S Elliot Washington of Venice (Fla.) High, S Makari Vickers of Tallahassee (Fla.) John Paul II Catholic and LB Jaiden Ausberry of University Lab are other top 2023 names visiting Florida.