On300 Wide Receiver Jayden Gibson Commits to Florida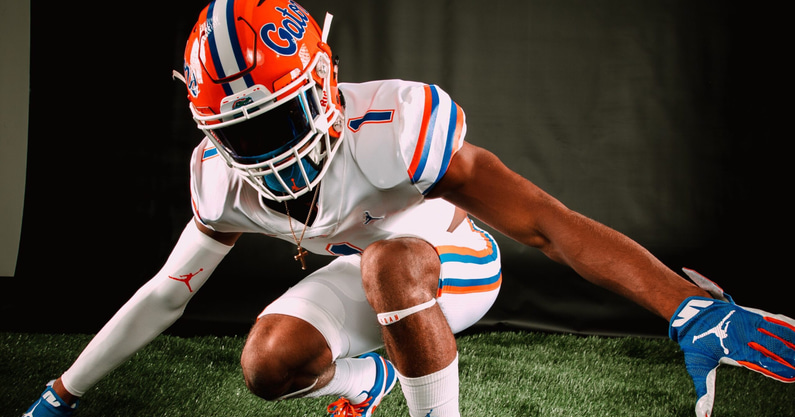 Four-star wide receiver Jayden Gibson of Winter Garden, FL committed to Florida on Wednesday, choosing the Gators over Georgia, South Carolina, and Miami.
Gibson Felt Florida Presented the Best Opportunity for Him
"I chose Florida because it was a great opportunity to play for Coach (Dan) Mullen and Coach (Billy) Gonzales, two great coaches that I like a lot," Gibson said. "Florida was the best option for me because it is a place that I know I can go in and be able to contribute to the team and help bring a national championship to the people." 
The 6-foot-5 receiver has known for a while that Florida has been the school for him, about two months to be exact.
"Before that, I had to do a lot of thinking," Gibson said. "I let the staff know that I was committed right before the Alabama game."
Relationship with WR Coach and Plans for Gibson in Florida Scheme
"The times that I went out there, we watched a lot of film," Gibson said. "I'm really happy how they see me, it is just how I see myself. A lot of people view me as a big receiver who just comes in the red zone and runs jump balls."
"I know that they know I am a complete receiver with the ability to grow in all aspects of playing the position," Gibson said. "I can run routes, am fast, can get yards after catch, and more aspects where I'm not just using my height."
Gibson Plans to Do Some Recruiting of His Own
"I am definitely going to be hitting up Azeryah Thomas and Evan Stewart," Gibson said. "But at the same time I know that it's a big decision that we all have to make, so I'm not going to press it too much. At the end of the day I want everyone to go where they feel comfortable, but one thing is for sure, the next couple of years are going to be crazy in The Swamp."
Jayden Gibson, who ranks as the No. 27 wide receiver in the On300 2022 rankings, joins Nick Evers, Isaiah Bond, and others in Florida's class which ranks top 5 in the SEC.