Simmons Scoop: Florida in a great spot for 4-star CB Dijon Johnson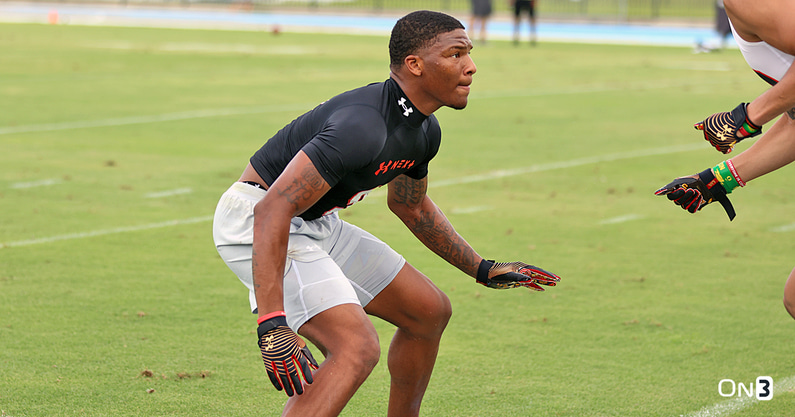 Tampa (Fla.) Wharton four-star cornerback Dijon Johnson decommitted from Ohio State on July 30. According to On3 Director of Recruiting Chad Simmons, the Buckeyes, Alabama, Florida and Miami are in contention for his commitment. Yet Simmons believes the Gators have the edge.
"Florida looks to be in a great spot with Johnson," Simmons said. "Good connection. He's been there multiple times. He was there late in July. He likes the coaching staff and I think it's close to home and that favors the University of Florida as well."
The Gators currently have one of the best cornerbacks coaches in the country in Corey Raymond, which helps their case for Johnson. Additionally, the 6-foot-1, 187 pound defensive back was in Gainesville last month for Florida's Friday Night Lights event and recruiting cookout.
Landing Johnson, the No. 98 overall prospect and No. 9 cornerback in the 2023 On3 Consensus, would be a crucial in-state recruiting win for first-year Florida head coach Billy Napier. If Johnson commits to the Gators, he would be the second-highest-ranked prospect in their 2023 recruiting class behind Orlando (Fla.) Boone four-star wide receiver Aidan Mizell.
Florida's group currently ranks No. 13 in the 2023 On3 Consensus Team Recruiting Rankings, as well as No. 5 in the SEC. According to the On3 Recruiting Prediction Machine, Johnson has a 68.9% chance to flip his pledge to the Gators.
CLICK HERE to subscribe for FREE to the On3 YouTube channel
Simmons mentioned that Alabama, Miami and Ohio State are still making a push for the four-star recruit. However, he believes the Gators are ahead of them in the race for Johnson's commitment.
"I think Miami's in the mix," Simmons said. "I think Alabama's kind of sneaky in the background in there as well. But there's been some buzz recently by him going back to Ohio State. Right now, I still see them probably second, likely third on his list behind Florida and Miami."
Dijon Johnson On3 Scouting Summary
The following is the On3 Scouting Summary for Dijon Johnson:
"One of the more physically-imposing top cornerbacks in the 2023 cycle, measuring at 6-foot-1, 187 pounds with a wing-span over 6-foot-4. Pairs the high-end speed and length with good straight-line speed, running an electronically-timed 4.58 second 40-yard dash prior to his senior season. A fluid mover with a smooth and coordinated back pedal. Has shown the ability to transition from his backpedal and flip his hips in downfield coverage. Shows some signs of being a risk-taker at the high school level, jumping passes. Looks like a pure cornerback as opposed to some of the other big defensive backs in the cycle. Older for the class."