Surprise injury could force a major change for Florida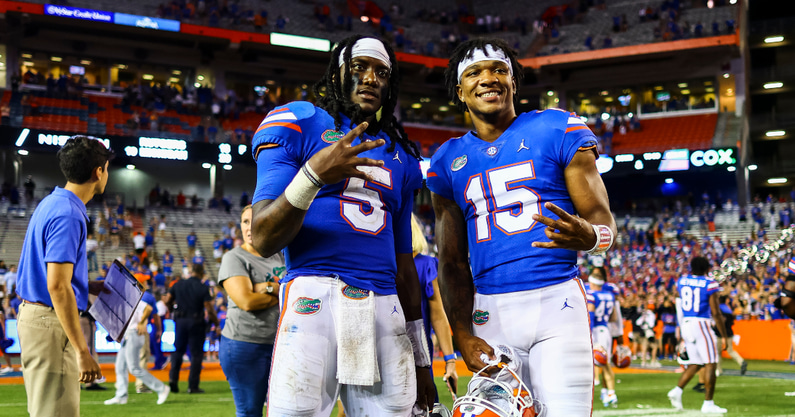 As if the Florida Gators haven't had enough change over the last two weeks, they'll now also have a new starting quarterback on Saturday versus Florida State.
Due to a practice injury, Emory Jones will not be able to play, according to Zach Abolverdi. Instead, Anthony Richardson, who hasn't played since late October, will start versus the Seminoles.
After Florida's 24-23 overtime loss to Missouri, former Florida head coach Dan Mullen said that Richardson was unable to play.
"Anthony has been banged up, had more injuries at practice this week, so he was limited in his opportunity to practice," Mullen said of Richardson, who hurt himself prior to the South Carolina game while dancing in the team hotel.
Mullen was fired after the Missouri contest, leaving running backs coach Greg Knox as Florida's interim head coach.
Last week, Jones finished with 20 completions in 32 attempts, good for 261 passing yards. He also had with 17 carries for 45 rushing yards.
In Richardson's first start for the Gators, he went 12-of-20 for 87 yards and two picks – no scores – versus the No. 1 Georgia Bulldogs.
Flip-flopping over Richardson in Florida
Richardson, a four-star member of Florida's class of 2020, has shown glimpses of potential in his freshman season, utilizing both his accurate arm and immense athleticism.
Last season, as a true freshman, Richarson took a redshirt year after appearing in just three games. He completed one of his two passes for a touchdown and an interception. However, this year, things have been much different.
Many expected Emory Jones to be man in the starting role all year, but after he struggled early on, Richardson was thrust into action. He completed three of eight passes against FAU, good for 40 passing yards. More impressively, he had seven carries for 160 yards and a rushing score.
Overall, in six appearances, Richardson has completed 57.9 percent of his passes for 474 passing yards. He has five touchdowns and five interceptions. He also rushed the ball 40 times for 374 yards and three touchdowns.