WATCH: Florida stuns Ohio State on buzzer-beating three-pointer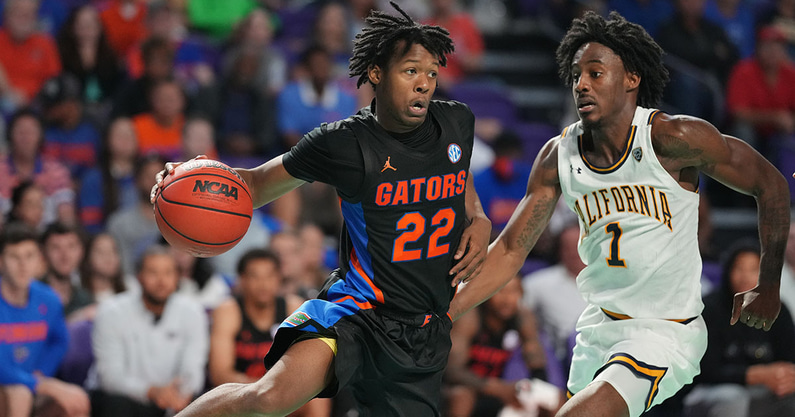 No. 23 Florida survives to win the Fort Myers Tip-Off.
Tyree Appleby was the hero for the Gators when he sank a deep 3-pointer to give Florida a 71-68 victory over Ohio State in the Fort Myers Tip-Off championship game Wednesday night.
Appleby also had his hand in tying the game, throwing up an assist for an Anthony Duruji dunk to make it 68-68 with 36 seconds left. Ohio State took its time on the next possession, and EJ Liddell missed the jumper with eight seconds left.
Florida coach Mike White had three timeouts he could've used after Myreon Jones got the rebound after Liddell's miss. The rest, as they say, is history.
Inside the numbers of Florida vs. Ohio State
It was a struggle on offense for the Gators, who shot just 36.7% from the floor and 28.6% from three-point territory. But Florida made 23 of 33 free throws, including nine from Philandrous Fleming Jr. as part of a team-high 19 point effort off the bench, to keep up with the Buckeyes. Colin Castleton had a huge game, as well, scoring 11 points and grabbing 13 rebounds, including five offensive boards — which also kept the Gators in the game.
Ohio State, meanwhile, shot 53.2% from the floor despite going 26.3% from downtown. EJ Liddell had 23 points, including two key free throws to make it a one-point game, to lead the Buckeyes effort.
The Buckeyes had trouble controlling the basketball, though, committing 18 turnovers on the night. Florida took those miscues and turned them into 22 points. The Gators also had the edge in second-chance points, getting 16 points off 16 offensive rebounds.
So it looks like Florida will stay ranked after the scare — and they leave Fort Myers on top. The Gators are now 5-0 to start the year and are getting ready for their next game on Sunday against Troy in Gainesville. That game tips off at noon ET on the SEC Network.