4-star LB Blake Nichelson commits to FSU, the school he feels most at home at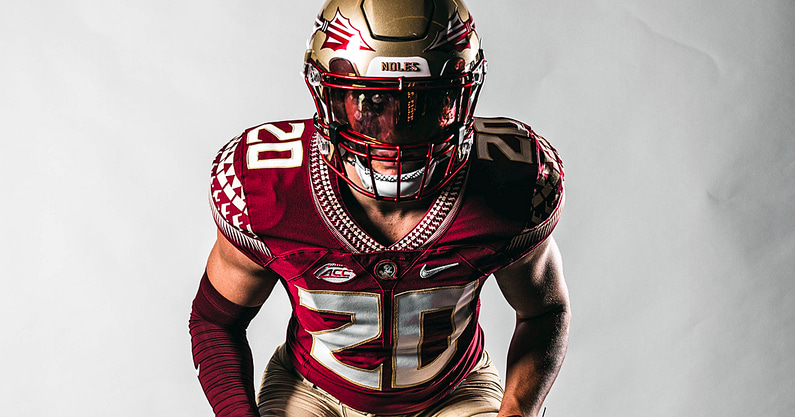 Florida State, Oregon, and UCLA had hats on the table Tuesday evening at Blake Nichelson's commitment ceremony. The four-star linebacker out of Manteca (Calif.) picked the garnet and gold hat and he has committed to the Seminoles.
Even before Mike Norvell and Florida State offered Nichelson in May, the communication was strong, and that is where the relationship started. Norvell was heavily involved. Randy Shannon was the lead recruiter. Adam Fuller built a bond with the No. 189 prospect in the On300 as well.
It was those connections that helped the Seminoles finish on top.
"I just feel at home at Florida State," Nichelson told On3. "I love the area. When I have been on campus, it has that home feel. That was always what I was looking for. The fans, the coaching staff, and the players are great people. It gave me a great feeling."
The staff really did a good job getting to know Nichelson. Not just as a player, but as a regular person.
"Everyone at Florida State is genuine. It was not all about recruiting with me. The coaches were not fake. They tell you straight-up what they want, how they feel, and they really care about me. It is not just the recruit with Florida State and that meant more to me than anything."
Blake Nichelson is headed across the country to Florida State
The location never mattered to Nichelson. The 6-foot-2, 215-pound four-star has been leaning towards leaving his home state of California for some time. It came down to Florida State and Oregon in the end and he is confident in his decision.
"It was about whatever program fits me the best. Florida State is it for me. I love how Florida State got to know me and took their time with me, even before offering me. They wanted to make sure I was a fit for them first. That showed me a lot.
"After they offered, they made me a priority. They got to know me. They wanted to know who they were dealing with. The energy is always positive and strong with the coaches at Florida State.
"As soon as they offered me, Florida State was in my top group. As I took my visits, they stayed up there, and I made the final decision recently. I went back and forth a little, but Florida State is the fit for me."
Nichelson gave Norvell and his staff the news of his decision not too long ago. He was welcomed immediately.
"The coaches were fired up when I told them about my commitment. He was happy for me, he was happy to get me, and it was a great conversation."
The timing couldn't be better for Nichelson and Florida State
Florida State is coming off a win over Louisville to take their record to 3-0 in 2023. Norvell has the program going in the right direction and Nichelson can't wait to be a part of it.
"It is really like the perfect timing for me to commit and get to Florida State," Nichelson said. "It took coach Norvell some time to build up the program and I think what they are doing now shows what coach Norvell is about.
"I get to go in, play for great coaches, play with great players, and be a part of a program that is going up. The timing is perfect for me. Just like the fit is. I love what coach Norvell is doing."