Florida State trending with a few of the nation's top recruits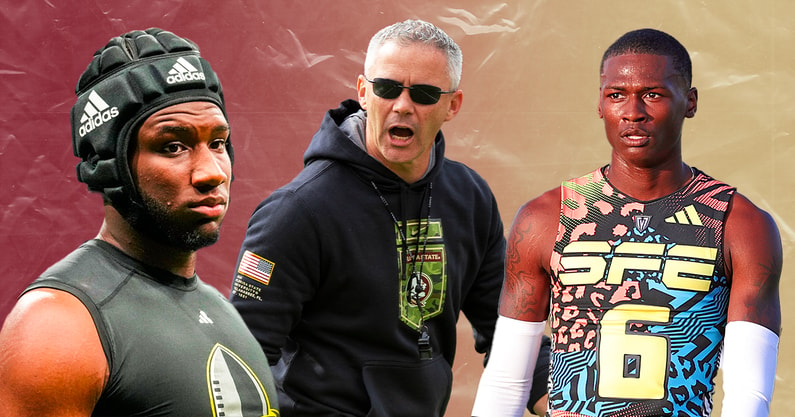 Mike Norvell just might have supplanted Ole Miss' Lane Kiffin as the Football Transfer Portal King this offseason with some of the key additions he brought to Florida State. But the Seminoles are also having major early success on the recruiting trail with high school prospects, sitting at No. 7 nationally in the On3 Industry Football Team Recruiting Rankings.
Following its flip of five-star tight end Landen Thomas from Georgia, while also locking in four-star quarterback Luke Kromenhoek and elite running back Kam Davis, FSU has some major juice right now. The Seminoles are trending toward a top-five class and have their eyes on a few more major targets as well.
"After a sizable step forward last season on the field, we're beginning to see a major uptick on the recruiting trail for FSU," On3 national recruiting analyst Sam Spiegelman said. "That theme has been present both in-state, especially with some of the blue-chip Florida talent in 2023 and even more so in 2024, as well as at a national level.
… Right now, the Noles are trending with some of the nation's best. After big wins in this cycle in flipping Landen Thomas already, Florida State is recruiting at a pace that the fan base is accustomed to, and a level the program hasn't recruited at in several years."
5-star CB Charles Lester III
School: Sarasota (Fla.) Riverview
On3 Industry Ranking: No. 13
On3 RPM: Florida State 91.3%, Georgia 2.1%
The Skinny: There are few defensive prospects in this class more wanted than Charles Lester III, the nation's No. 2 cornerback. And despite the Seminoles coaching change in the secondary, Lester is very high on Norvell and FSU. He named FSU as his leader last month and the 'Noles will get one of his four official visits, along with Colorado, Alabama, and Georgia.
"I would say Florida State is the leader right now in this process for me," Lester told On3's Joseph Hastings. "If I had to choose today, I would go there. That's the first time I've told anybody that. … To be honest, Florida State is my No. 1 school right now."
On3 5-star OT Jonathan Daniels
School: Pensacola (Fla.) Pine Forest
On3 Industry Ranking: No. 71 (#11 in the On300)
On3 RPM: Florida State 89.3%, LSU 3.1%, Miami 2.6%
The Skinny: Jonathan Daniels has played on both sides of the football during his junior and sophomore seasons for Pensacola (Florida) Pine Forest, but his high school coach, Ronnie Douglas, believes his star linemen has the tools to be a future NFL star. And that's exactly where Florida State wants him.
The Seminoles, along with the likes of Miami, Georgia, Auburn, Florida and more covet Daniels, but FSU has made a major impression.
"Every time I come back, it's different," Daniels told On3's Sam Spiegelman last month. "It's a different environment and different atmosphere. It's always something new, it's never the same. The hype, the environment, it's outrageous."
4-star EDGE Dylan Stephenson
School: Miami (Fla.) Columbus
On3 Industry Ranking: No. 196
On3 RPM: Florida State 92.1%, Miami 3.9%
The Skinny: Dylan Stephenson is a Miami legacy, but it's the Hurricanes' arch rival program that is trending heavily to land him. On3 Director of Recruiting Chad Simmons placed an expert prediction in the 'Noles favor earlier this month, and all signs point to him ending up in the Garnet and Gold.
"The commitment timeline is expected to be over the summer, but based on intel, I like where Florida State sits with four-star EDGE Dylan Stephenson," Simmons wrote. "… Based on what I am hearing, Florida State has picked up some real momentum with Stephenson, and I have logged a prediction for the Seminoles on the On3 Recruiting Prediction Machine."
4-star IOL Jason Zandamela
School: Clearwater (Fla.) International Academy
On3 Industry Ranking: No. 234
On3 RPM: Florida State 96.7%, USC 1.9%
The Skinny: After signing four-star offensive tackle Lucas Simmons out of Clearwater Academy last cycle, the Seminoles are looking to do the same with Jason Zandemela. And after a slew of RPM expert predictions this spring, things are looking very good for them to do so.
"I'm very interested in them," Zandamela told On3's Chad Simmons. "I have a very good feeling about how they're recruiting me and how things are going with them."
4-star OT Manasse Itete
School: Modesto (Calif.) Central Catholic
On3 Industry Ranking: No. 340 (#195 in the On300)
On3 RPM: Florida State 90.5%, Oregon State 2.6%, California 1.7%
The Skinny: Itete dropped his top five schools on Sunday evening, a list that included Florida State, USC, Washington, Oregon State and Utah. But despite being all the way across the country, the Seminoles have made some serious headway with Itete, one of the top offensive tackles in the country.
He has a strong relationship with offensive line coach Alex Atkins, who he believes can develop him into an elite college prospect.
"He's been there since day one," Itete said. "We've always had a great relationship."