Mike Norvell talks young quarterbacks, AJ Duffy and Tate Rodemaker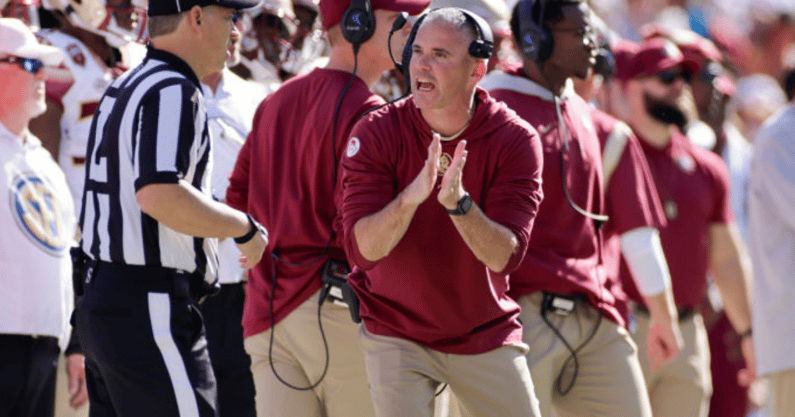 Florida State will have some stability with the starting quarterback this season, with Jordan Travis returning to the program. However, there will be some competition further down the depth chart, with two young quarterbacks competing for the backup role — AJ Duffy and Tate Rodemaker.
Duffy is entering his first season with the Seminoles, being a member of their 2022 recruiting class. Rodemaker has been on campus for two years already and has been viewed as a long-term project for head coach Mike Norvell.
When asked about how the two quarterbacks and how they're developing early in fall camp, Norvell said they are both "continuing to grow." He thinks Duffy and Tate have done some good things when it comes to the process of making plays.
"Yesterday, I tought he had a really good day," Norvell said. "I thought him, Tate… You see them both continuing to grow. Sometimes, it's even a location of a pass. Might not have been completed but are they hitting the spots of where they want to hit? Is he making the checks?"
Rodemaker has played in seven games throughout his career, earning one start against Jacksonville State during the 2020 season. Overall, he has completed 58% of his throws for 137 yards, no touchdowns, and three interceptions.
Mike Norvell discusses AJ Duffy
Norvell then talked more specifically about Duffy, who has been on campus since the spring. The Florida State head coach said all of the mental aspects are there for the true freshman but now, it's all about putting everything together on a consistent basis.
"The thing that is probably the most impressive of AJ is his ability of what he has been able to take in," said Norvell. "From spring to the application of that and with those practices. Then jumping in here in fall camp. He has a great understanding of protections, great understanding of the concepts. Now, it's just the consistency showing up and being able to execute that play in and play out. Still have some freshman moments but I like the course of what he's on."
The On3 Consensus, a complete and equally weighted industry-generated average that utilizes all four major recruiting services, had Duffy ranked as the No. 11 quarterback coming out of high school. Even if Travis has the starting role for Florida State right now, Duffy might be considered the future in Tallahassee.