Four-Star QB Brock Glenn flips to Florida State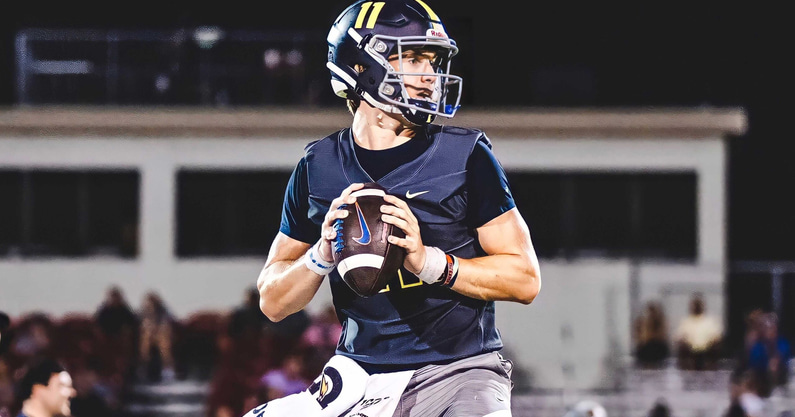 Four-star quarterback Brock Glenn of Memphis (TN) Lausanne Collegiate School flipped his commitment from Ohio State to Florida State Monday afternoon.
The 6-foot-2, 195 pounder had been committed to the Buckeyes since July.
Glenn on why he flipped to FSU
"First off I want to start by saying I have the utmost respect for Ohio State and their entire staff," Glenn said. "They are all great people and obviously great coaches at a top program. I enjoyed getting to know the entire staff and all of the commits, and I'm thankful for the opportunity they gave me."
"I've always liked Florida State since my recruiting process began, and then they had the season they've had and it opened my eyes a lot. I think everyone sees what Coach Norvell is building. He is an outstanding coach and an even better person. Just getting the opportunity to be coached by him and be a part of what he is building there is something I can't pass up.
Like I've said previously, my offense at Lausanne is almost identical to Coach Norvell's, especially because my coaching staff now has experience and great relationships with him and the entire staff at Florida State. I believe Florida State's offense and Florida State in general is an unbelievable fit for me. When I went on my visit they made me feel at home, and honestly it was my favorite official visit that I took. Florida State respected my decision in July to commit to Ohio State, but they did not stop recruiting me. They continued to make me feel wanted, needed, and special. I'm extremely excited to be headed to Tallahassee, and I can't wait to be a part of what Coach Norvell is building there."
Glenn ranks as the No. 389 player in the On3 Consensus, a complete and equally weighted industry-generated average that accounts for all four major recruiting sites. He also tabs in as the No. 21 quarterback and the No. 12 player in the state of Tennessee.