Mike Norvell explains Florida State's next man up mentality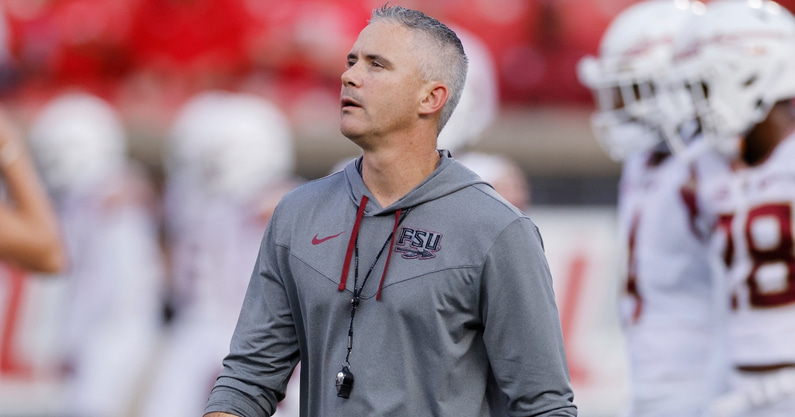 Florida State had some new players on their injury report following their win over Louisville last Friday, including quarterback Jordan Travis and defensive lineman Jared Verse. Both of their backups had to finish the game for them and helped lead the Seminoles to a win, the epitome of the next man up mentality preached throughout all levels of football. Head coach Mike Norvell talked about this mentality within his own team, and how it's mainly centered around competition.
"I think it's a competition aspect of it, you never know when your number's gonna be called and there's a few positions where there's just one guy that plays majority of the reps," Norvell explained. "But there's other positions that you're gonna see guys roll, we try to prepare them to be put in different spots and we want that competition."
Norvell elaborated on the importance of competition within his own team, and how it benefits players in both starting and backup roles.
CLICK HERE to subscribe to the On3 YouTube channel today for all of the latest news on college football, recruiting, NIL, more!
"We want competition at every spot because you never know when your role might change, it's just like going from last year to this year. There's guys that played last year, but this year they're in more of a showcase role, and they have to perform at an elite level because so much of what we're doing is working through them, but that takes a step," Norvell said.
Being a backup isn't the most fun or glamorous job on any team, but Norvell spoke on how the preparation and vision of someone in that reserve role can pay off.
"And it's just like when somebody goes down, you have to be prepared, but how you prepare through practice if you're willing to make that type of investment, if you're willing to truly see yourself even better than the role that you might be in, regardless of whether you're a starter or not, I think that puts you in the best position to achieve success when it shows up on game day," Norvell explained.
Norvell is obviously hoping to get all of his injured players back healthy and returning to their roles for the Seminoles. But he did give kudos to those who've stepped up and made the most of their opportunities, and attributed their success to their drive, competitiveness, and eagerness to do more.
"Our guys, they compete hard, they compete hard in everything they do in the offseason, there in practice, and when they get the opportunity on game day," Norvell said. "So I do think that helps them on, but it's about maximizing the opportunity, because everybody wants more, every player wants more balls, more tackles, more playing time, everybody wants more. But you've gotta go prove it and earn it in all that you do, and I think our guys are doing that in a really good way."